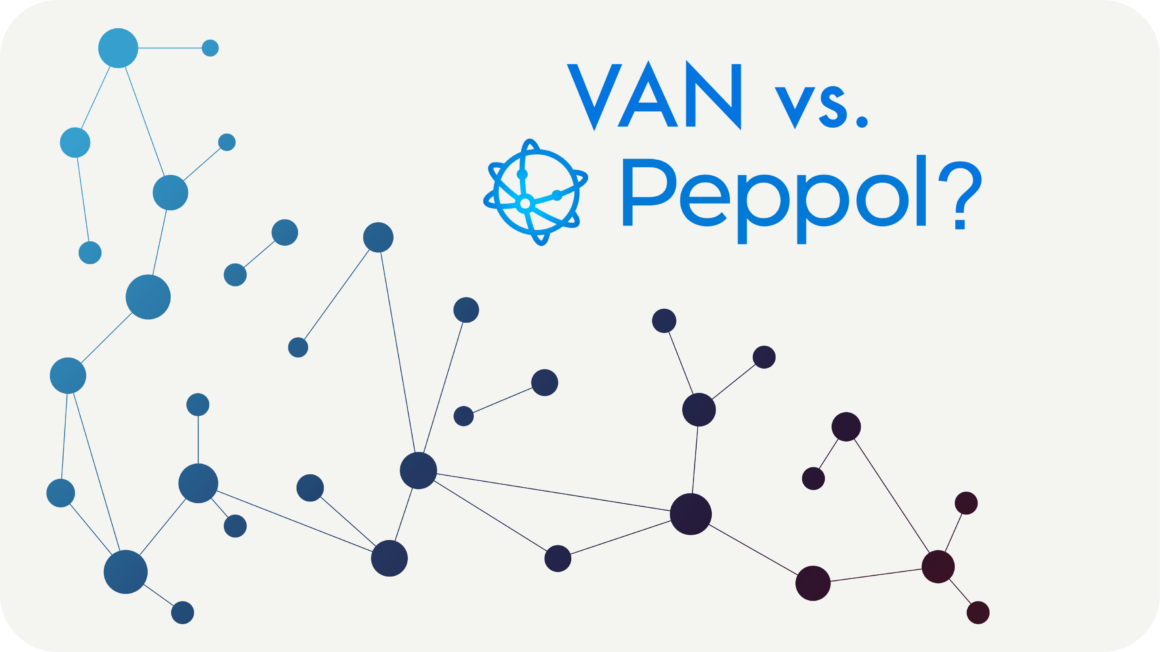 With today's challenges, cutting administration costs and staying efficient is a top priority for B2G and B2B businesses. The primary concern remains focused on consolidating and reducing costs — but without interfering with either security or system usability, or growth of their operations.
Streamlining their electronic data interchange by adopting Peppol provides a ready-made, cost-reducing solution for clients who mainly transact with public sector organizations and private companies.
Peppol is the new standard in electronic data interchange. Based on its interoperable business processes, it has quickly become the e-procurement solution for buyers and sellers across the EU and is quickly expanding its reach globally. However, there's a significant difference between the Peppol network and traditional business network solutions.
Read on to learn which network — VAN or Peppol — is best for business messaging.
VAN services — a short introduction
A VAN (Value-Added Network) service for e-invoicing is a type of service that enables businesses to securely exchange electronic invoices (e-invoices) and other message types, such as e-orders, punchout, and responses, with other organizations. The VAN service acts as an intermediary between the sender and the receiver of the message, providing a reliable way to transmit the electronic document.
VAN service providers and operators of business messages can often provide additional features beyond routing messages, such as:
Translation of e-invoices into different formats so that they can be read by different accounting systems
Automatic routing of invoices to the correct recipient
Archiving and retrieval of e-invoices
Integration with other business systems such as ERP, accounting, and banking systems
Automated validation of e-invoices to ensure compliance with legal and tax requirements
Secure and authenticated transmission of e-invoices
Provide access to Peppol
In its setup, VAN is a closed network, enabling messages to be exchanged between the participating operators. Most operators can provide access to Peppol but using traditional VAN services has drawbacks.
In addition to direct EDI connections, where buyers and sellers exchange messages directly with each other, the exchange of e-invoices and other documents has primarily been made possible via so-called VAN operators. In this closed network, private operators create connections with each other. These operators ensure the proper distribution of messages between the sender and recipient.
Peppol shifts the logic of the exchange as it doesn't require any previous connection or setup between specific operators. Any service provider acting as an access point in the network can distribute messages to any organization. The only requirement is a Peppol ID — the unique address of each connected end user.
| | |
| --- | --- |
| VAN | Peppol |
| Connection between parties required | No connection between parties required |
| Testing required | Reduced need for testing |
| Conversion required | Standardized format |
| Risk for international limitations | Recipient's country must have a connection |
| Slow process | Only requires a Peppol ID to send |
| High running costs | Low running costs |
Among other things, its simplicity means the need for testing is significantly reduced compared to the VAN network, where testing is an essential part of the setup between parties. However, testing also drives costs for the user and increases manual work.
As the VAN network connects different actors in different regions and parts of the world, it leads to various file formats and XML-based message types sent between business partners. Processing these formats in the respective ERP system requires data conversion. In addition to the work and cost of setting up and running this conversion, there is a constant risk that it will need to be more comprehensive and that transactions will lose valuable data.
That doesn't mean Peppol is already fully developed.
One disadvantage of Peppol is that the recipient's country must connect to Peppol through a so-called Peppol Authority to secure the network. This actor is often an authority or equivalent institution. For example, in Sweden, DIGG is the Peppol Authority. This limitation does not exist in the VAN network.
Ready to benefit from a tightly-knit network geared toward B2B and B2G e-commerce with more reliability and consistency?
Peppol is a cheaper, faster, and more flexible solution for almost all types of organizations compared to the traditional VAN network, contributing to its strong growth and continued rapid progress. As a result, Peppol is quickly becoming the dominant, go-to network for businesses.
Qvalia provides the most friendly and efficient access point, for users as well as IT, to the Peppol network. Book a demo today.