Peppol Access Point with rapid integration
Accelerate your processes with Peppol Access Point. Manage your e-documents, send and receive e-invoices, e-orders, and more. Our gateway provides simplified Peppol network access, rapidly integrated into your systems.
Fast & reliable
The platform is fast, scalable, and reliable. No transactions get lost. Our uptime since the launch in 2018 is 100%.
Full support
Our customer success team and integration specialists will help you with onboarding from start to finish.
Cost efficient
A Peppol Access Point with competitive transaction-based pricing. 30-day cancellation, no term periods.
Peppol gateway with intuitive cloud interface
Manage your transactions from your system of choice — or use our intuitive cloud tool.
Up and running within 24 hours
Integrating with our gateway is easy using our open APIs or via SFTP. Our onboarding team will help you from start to finish. We register your Peppol ID and you can be up and running with Peppol e-documents within 24 hours.
UNSPSC classification
Spend Monitor
Supplier Manager
Autobilling
Upgrade your process
Access advanced process automation features — invoice validation, deviation management, master data monitoring with automated updates, real-time spend analytics, accounting automation, and more.
Electronic documents at scale
Streamline your process with the e-documents you need: e-invoices, e-orders, order response, and more.
Qvalia provides a gateway optimized to your needs, always updated to the latest standards.
BIS Billing 3
BIS Billing 3 credit note
BIS Invoice Response 3
BIS Order only 3
BIS Ordering 3
BIS Catalogue with response 3
BIS Catalogue without response 3
BIS Despatch Advice 3
BIS Punch Out 3
BIS Order Agreement 3
BIS Message Level Response 3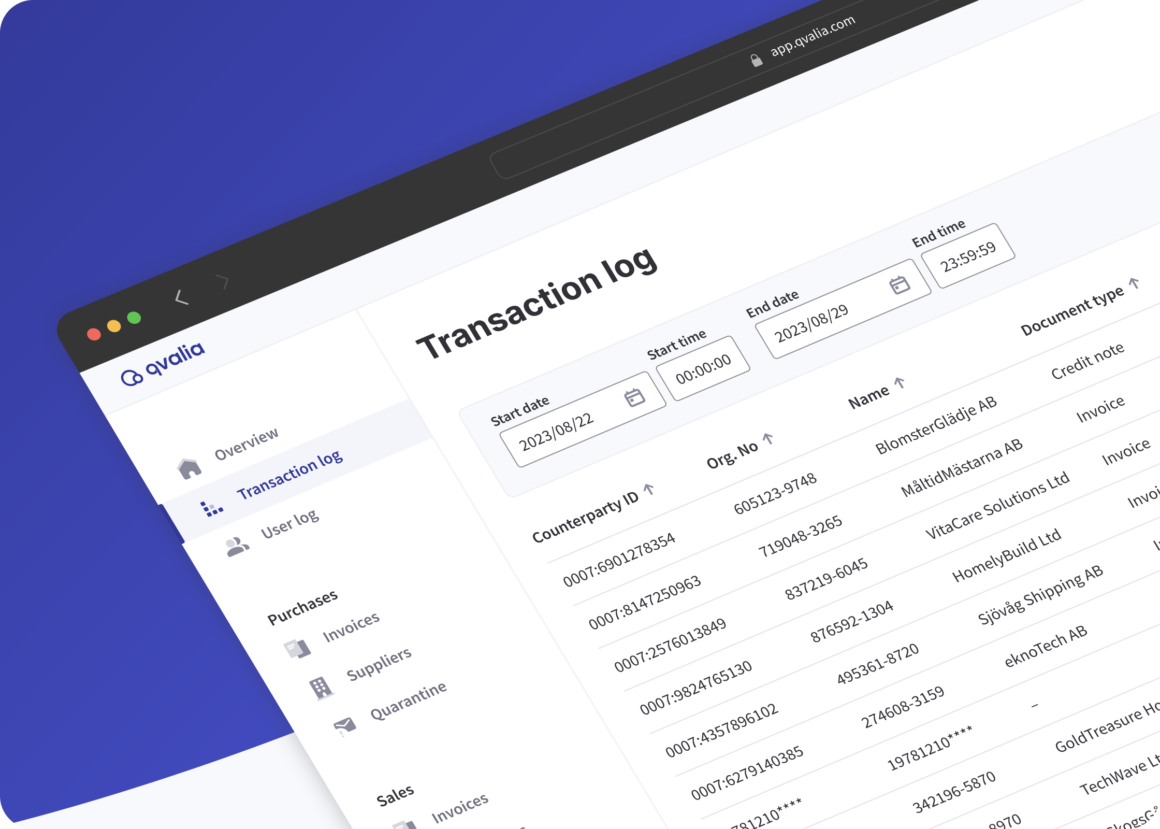 Traceability and control
Gain complete and fully searchable access to your business messages and user history. Our transaction and user logs facilitate audit trails while giving administrators and developers full control and traceability.
What is a Peppol Access Point?
A Peppol Access Point (PAP) is a digital infrastructure node that allows businesses to exchange electronic documents, such as invoices, orders, and receipts, with other businesses and public sector organizations. PAPs are cornerstones of the Peppol network, which is a pan-European exchange system that aims to simplify and standardize business transactions and e-document exchange across borders and industries.
How do I get started with Peppol Access Point?
To get access to a Peppol Access Point, your company needs to be a registered member of the Peppol network. You can become a member by signing up with a Peppol service provider, such as Qvalia. These providers will help you set up your Peppol account and provide the necessary information and support to connect to the Peppol network and access the PAP. Search for companies and organizations registered to Peppol.
What features are included in Peppol Access Point?
You'll get all access point features by subscribing to Qvalia's premium plan. The plan includes e-invoices, e-orders, response messages, Quarantine for simplified deviation and error handling, and more.
All Peppol messages
Peppol ID registration
Error handling
Duplicates handling
View invoice source
Integrations
Onboarding
Dedicated support
What is the cost of Peppol Access Point?
The cost of a Peppol Access Point from Qvalia varies depending on your transaction volume. In general, the cost is a monthly subscription fee and might include a one-time setup fee. For more specific pricing information, contact us.
Peppol Access Point requires a premium plan subscription and comes with full support, including onboarding. You will be assigned a dedicated customer success manager, and we provide unlimited support by video, phone, and email.
Do I need a Peppol Access Point to send invoices?
With Qvalia Peppol Access Point, you'll get access to all Peppol messages, API integration, and advanced features for message handling. If you only need to send an occasional Peppol BIS Billing e-invoice, register for a free account.
Let us explain how Peppol Access Point can connect you with the Peppol network
Book a meeting today and we will tell you how Peppol Access Point can be integrated into your process, improve your transaction handling, and future-proof your business.