It's been decades since businesses first discovered the immense benefits of digitizing business processes. The first e-invoice was sent as early as 1965; needless to state, much has happened since.
The shift to digital has allowed companies to better manage information — documents, transactions, and all kinds of forms — digitally and saving on costs, minimizing frustration, and increasing the quality while reducing the risk of human error muddling the results.
But that's not all it's unlocked. It's also led to the rise of improved integrated processes, resulting in the creation of e-procurement and digital commerce. This alone has simplified sharing information and conducting business.
We've also seen the standardization of data formats. Electronic data interchange (EDI) has moved documents like purchase orders and invoices to fit technical standards, while value-added networks (VANs) have allowed companies to connect and share data through secure and private means.
This progress has pathed the way for Peppol, the world's largest open business exchange network, to solve the biggest problems in B2B transactions.
In this post, we'll cover the advantages of Peppol, why businesses across Europe, Asia, and America are embracing it, some of the common challenges they may experience, and how you can get connected and take advantage of a financial data platform that supports the Peppol network.
What is Peppol?
Business-to-business relations can be complicated. Transactions are often complex, there can be dozens of agreements, invoices, tax legislations, and communications necessary to conduct one, and that difficulty is only compounded in international supply chains.
But as companies get more globalized over time, the demand for more streamlined international procurement procedures and standardizations increases. Generally, the use of electronic data interchange (EDI) formats helped digitize document sharing, and value-added networks (VANs) combined service providers with their clients.
This setup, however, becomes fairly costly to set up and maintain, especially when companies work with large, interconnected networks of suppliers, distributors, partners, and other relationships. Furthermore, the barriers can be too big for smaller businesses as the investments to be up and running can be significant. The need for a single framework for sending and receiving invoices arose — a challenge Peppol addresses.
How does it work?
Peppol may seem complicated at a first glance, but it really isn't.
It all starts with a sender using a Peppol access point to distribute its documents, such as e-invoices, e-orders or agreements, in a standardized BIS format. This data is sent to the recipient's access point using a Peppol ID, which then passes it along to the intended recipient. The recipient can then fetch and manage the document in their system of choice, for example:
ERP
Financial system
Order management system
Accounts payable software
This four-corner model ensures a consistent experience across the board and doesn't require both companies to work with the same service provider. The service providers don't necessarily need to cooperate, test, or have other agreements, as long as they are certified access points. In the future, the Peppol network is looking to include tax authorities into the picture to simplify tax-related activities in procurement.
Is it trending?
Yes. 78 countries currently use Peppol as of May 2022, most of which are located within Europe and Asia. Norway, Sweden, and Belgium right now lead the pack in terms of the number of Peppol-registered organizations.
All of these countries are starting to see the benefits of the network and have used it extensively for B2B and business-to-government transactions in recent years.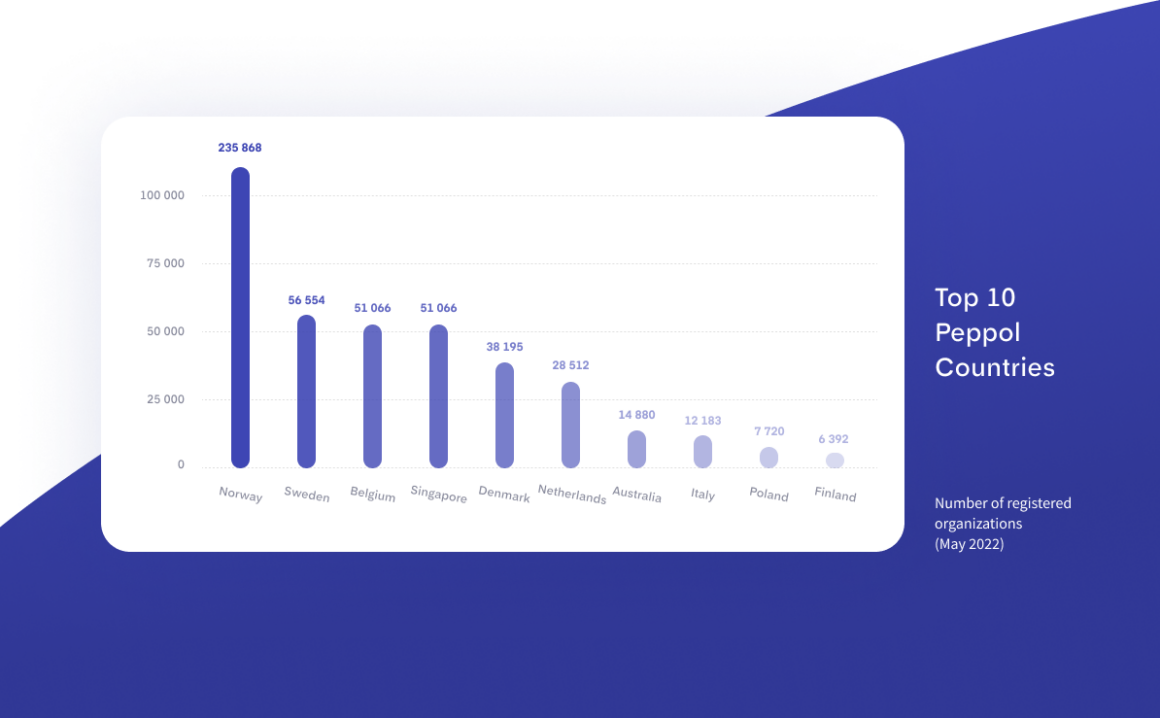 The pros of Peppol: why businesses choose it
Being an open digital business exchange network, Peppol contains all these cost-saving and efficiency-boosting benefits but adds on new advantages in the form of global interoperability, more standardized message formats, and increased reliability.
By working through the Peppol network, expect:
Faster document processing: A key advantage of Peppol is the accelerated invoice document processing and delivery. Businesses operating under this network send, receive, and process transactions much more quickly, opening the door for better profitability and efficiency that will ensure competitive viability for many years to come.
Fewer fees and costs: Unlike networks before Peppol that used dedicated service providers for communication between businesses, Peppol doesn't charge its own service fees. When you combine that with the increased speed of document processing, businesses can expect a faster and higher return on investment for joining Peppol.
Global interoperability: The whole purpose of the Peppol network's existence is streamlining procurement processes among organizations across Europe and increasingly in the APAC region. Peppol enables this benefit by making clear its requirements for document specifications and formats, as well as making the network as a whole an open standard. Even if the other party you're working with runs on a completely different procurement platform altogether, you can still work with it through Peppol.
Digital security: Like any Internet-enabled communication system, digital security is a major talking point, especially as high-profile data breaches have been reported in recent years. However, Peppol and all its access points have security features in place so that sensitive documents and invoices are only shown to authorized parties.
Legal requirements. Directive 2014/55/EU, a key policy in the e-Procurement Directives from the European Commission, states that the European public sector must be able to receive e-invoices in Peppol and all invoices must be sent in an electronic format, which means that suppliers have to secure Peppol capabilities. The directive came into effect in April 2019 and is gradually being implemented across the member states.
Both suppliers and their business clients benefit from working with the Peppol network, as both can minimize manual processes and optimize procurement and invoicing procedures.
Even governments and compliance teams enjoy Peppol for its transparency and accountability benefits. Digital documents sent over the network can be traced back to the source at any time. This way, tax authorities and companies use Peppol for international commerce without worrying about fraud or corruption.
Does Peppol have any cons?
While the Peppol network now is established as the main infrastructure in Europe, it's not free from challenges. For example:
Your choice of suppliers still matters: Working with international third-party suppliers, vendors, and distributors still requires diligent business decisions. Peppol only helps you connect with those parties seamlessly, but the deal is still your responsibility.
It can still be a good idea to conduct connectivity testing: Upon onboarding a new connection, it's worth testing your connection to your Peppol access point to ensure connectivity in business-critical partnerships. And don't forget to check whether the Peppol BIS format works well in your own company's systems.
Don't skimp on invoice quality: While the format of a Peppol invoice is consistent, not all companies know how to write one well. Some invoices might have missing information, extraneous data, or other quality control issues regarding invoices. Newer businesses often make the mistake of forcing a raw PDF file into an e-invoice format, causing many of these issues. Here are the ten most common mistakes in Peppol.
Adapting your organization to these new changes: Like any paradigm shift, Peppol (being a groundbreaking solution to cross-border procurement) requires a bit of work to get trimmed. You might need to think through workflows and transactional processes, from invoices to orders and various response routines. Some service providers might still be using dated business models that were optimized for VAN. And pricing models in general need to change to accommodate less expensive procurement costs.
Despite these challenges, Peppol has quickly found its way into the daily operations of companies across industries. And it will only get more popular as businesses figure out how to get the most value out of the network. Learn more about the network in our free guide to Peppol.

Get more from Peppol
The Peppol network is a contributing component to a more optimized procurement and digital commerce function. There's no denying transactional handling and business exchange are data-heavy business processes, so the need for automation and digitization is clear.
For many companies, the biggest challenge is getting started. The good news is Peppol-supported financial automation platforms already exist. Discover how Qvalia can fast-track your transition to Peppol through powerful finance automation solutions.