Product-level visibility on your spending
Spending too much on iPhones? Or industrial-strength power transformers? Spend Monitor lets you track your company's spend on a 5-level hierarchy. Drill down to every invoice line-item, product, or service.
Powerful analytics tools
Our tools enable a dynamic visualization of your purchases. Search for suppliers, products, and services categories or keywords. Aggregate or drill down, compare prices and spend over time, and identify top purchasers and suppliers, so you can make sure you're paying the right price.
Automated classification with global standard
Improve how your organization makes purchasing decisions with complete control of your historical and real-time data. Validated invoices are automatically classified according to UNSPSC, a global standard with over 50,000 products and services.
Contract management
& compliance
Ensure the financial performance of your contracts. Eliminate deviations between agreed and actual prices. We instantly and automatically give you actionable information by comparing and analyzing line-item level pricing on supplier invoices with price lists.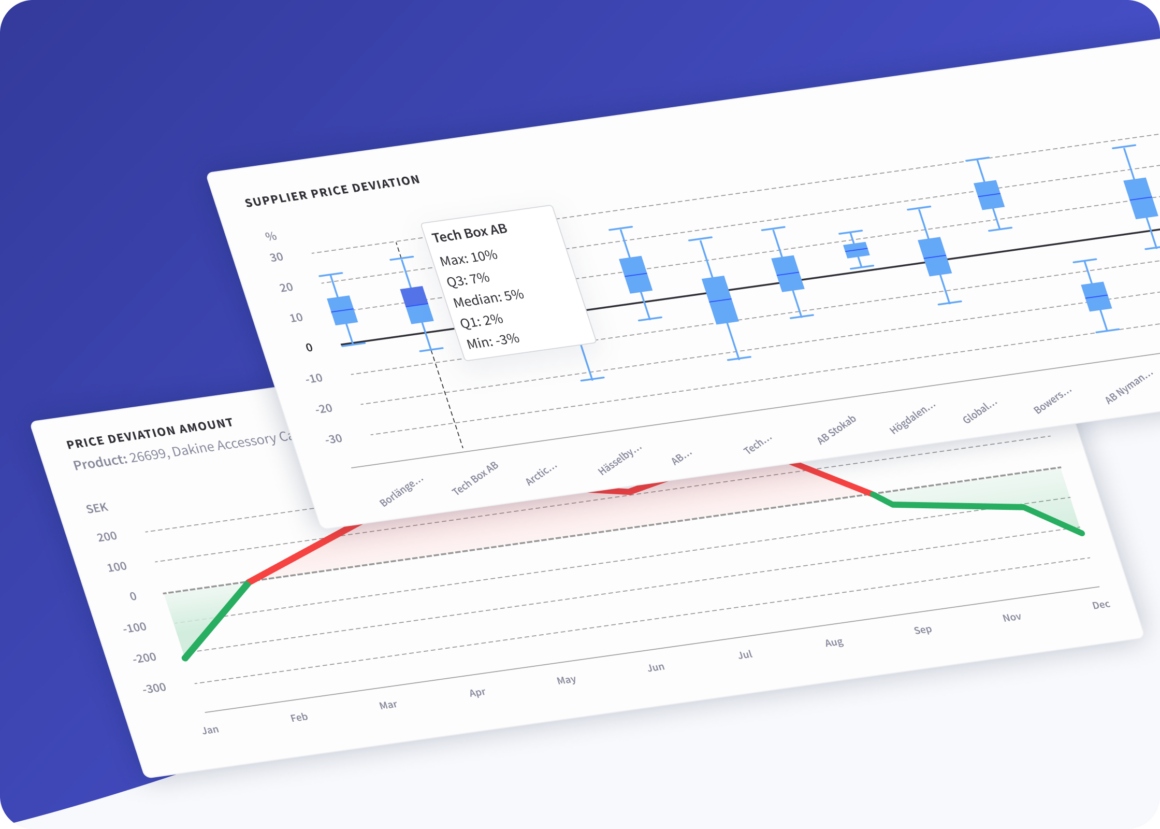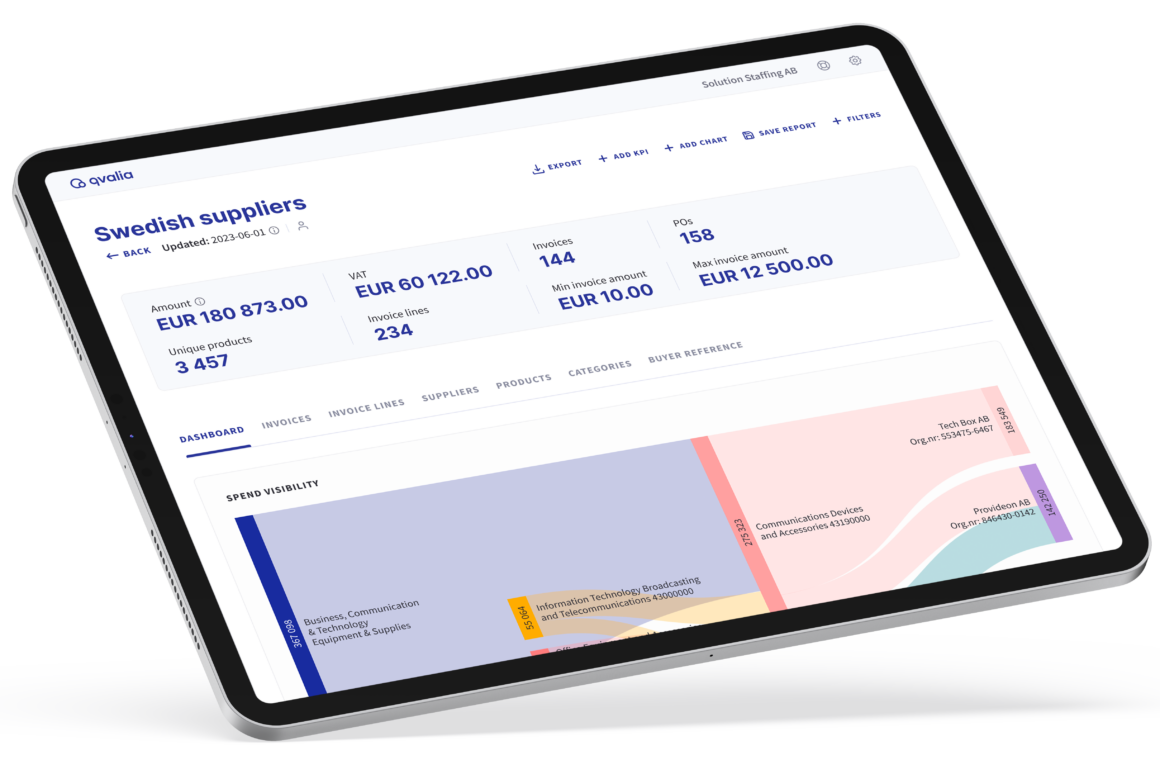 Improve procurement with spend analysis
Does your company buy from the right suppliers for the right price? Spend Monitor can help you save 5-20% of your total spend (Aberdeen Group). Qvalia enables you to make procurement decisions based on your purchases in real-time with effortless spend analysis.
It just works
Get your own spend analysis dashboard without effort or heavy investments in additional software. With Qvalia as your e-invoice operator, it just works. No time-consuming setup. No expensive stand-alone software. Our platform is easy to integrate into any ERP.
Spend analysis is the process of collecting, classifying, and analyzing an organization's spending in order to understand where its money is being spent and identify opportunities for cost savings. Classification is made according to standardized systems such as UNSPSC or custom-made categories.
The goal of spend analysis is to help organizations optimize their spending and improve their financial performance by identifying areas where they may be overspending, underutilizing resources, or paying higher prices than necessary for goods or services. Spend analysis involves reviewing an organization's purchasing data, contracts, invoices, and other financial records to gain insights into how it is spending its money. This process typically involves using data visualization and analytics tools to help identify patterns and trends in the data, and then using this information to inform decision-making and identify opportunities for cost savings.
Qvalia's Spend Monitor provides a complete solution for spend analysis, including automated classification of invoice line-item data, analytics tools, and export capabilities.
What is UNSPSC classification?
The United Nations Standard Products and Services Code (UNSPSC) is a hierarchical classification system used to classify products and services. It is a standardized coding system that is used globally to facilitate the exchange of goods and services. The UNSPSC consists of a series of codes that are used to identify and classify products and services based on their characteristics, functions, and uses. These codes are organized into a hierarchy, with each level of the hierarchy representing a different level of detail or granularity in the classification of the product or service. The UNSPSC is used by organizations around the world to classify and describe the products and services they buy, sell, or produce, and to facilitate the procurement and supply chain processes.
Spend Monitor by Qvalia automatically categorizes all purchases on a line-item level according to UNSPSC. The information is instantly available for analysis using our analytics dashboard or through data export.
Which technologies does Spend Monitor use to classify invoice information?
Qvalia uses machine learning and artificial intelligence to automatically classify purchases on a line-item level at scale. The categorization is instant independent of the number of invoices or line items.
How many spend analysis reports can be created?
Spend Monitor allows users to create and edit an unlimited number of reports.
Can I export my spend analysis reports?
You can download reports as CSV, PNG or SVG from the web interface, integrate via API for seamless exports to your ERP or BI system, or contact us for custom exports.
Which languages can Spend Monitor process?
Spend Monitor manages all invoices using Latin script. Our classification technology is language agnostic.
What is the price of Spend Monitor?
Spend Monitor is a part of Qvalia's platform and is available via our Insight plan. The cost varies depending on your transaction volume. In general, the cost is a monthly subscription fee and might include a one-time setup fee.
Learn how Spend Monitor can help you improve spend analysis and purchase decisions
Qvalia is the heartbeat for your business. Join thousands of successful startups, software companies, and digital creators using our platform. Become part of a growing community of innovative thinkers, makers, movers, and shakers — you're in good company here.