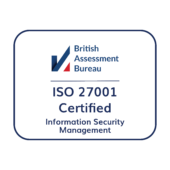 ISO 27001 certification
Qvalia's Information Security Management System (ISMS) has been certified against ISO 27001:2017.

Certified Peppol service provider
As a certified Peppol Access Point, Qvalia is an OpenPeppol member and authorized by DIGG, The Swedish Agency for Digital Government. The platform is compliant with AS4 and OpenPeppol PKI version 3 AP and SMP certified.
Data security and performance
Scalability
The platform is developed on highly available, performant, and scalable infrastructure to provide services with enterprise-ready resilience and availability.
Data storage
Securing our customer's data is our top priority. Transactional data is safely stored and safeguarded against governmental access from non-EU jurisdictions.
Availability
Track record of high availability, with 100% uptime to date since the launch in 2018. We guarantee that our service maintains a 99.98% availability level.
Monitoring
All critical systems, applications, and services are monitored 24/7. If the unforeseen happens, we are alerted to resolve the situation rapidly.
QA
Our quality assurance process for structured reviewing identifies and resolves issues for improved future performance.
Technology
The technology utilized includes active firewalls, encrypted file storages, content scanning, and secure transfer protocols.
Contact us