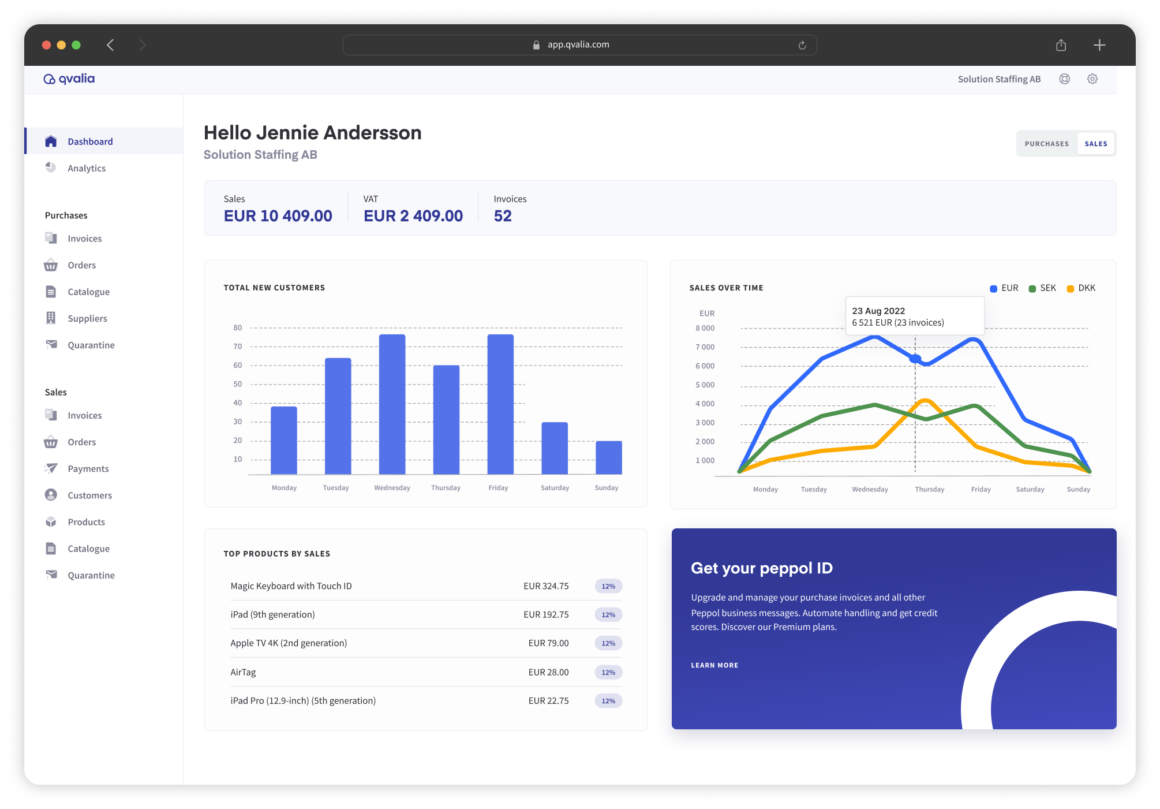 Efficient e-invoicing software that's free
Simplified e-invoicing — manage your transactions quickly in one place. Send standardized and compliant e-invoices for free using the global Peppol network. Customers without e-invoicing capabilities receive your invoices as PDFs via email.
E-invoicing software built for real people
Experience a user-friendly and efficient approach to invoice management. We've created an easier solution to send and receive invoices and manage finance processes.
Designed for growing companies
It's the perfect solution for companies of all sizes. You can easily upgrade as your needs grow. Enable automated invoice validation, accounting automation, approval workflows, credit monitoring, spend analysis, and much more. Getting started is free—there are no license fees or hidden costs.
Manage products, and business partners with ease
Keep your data under control with streamlined management of all your suppliers, customers, and products. Create and distribute compliant and correct e-invoices in seconds.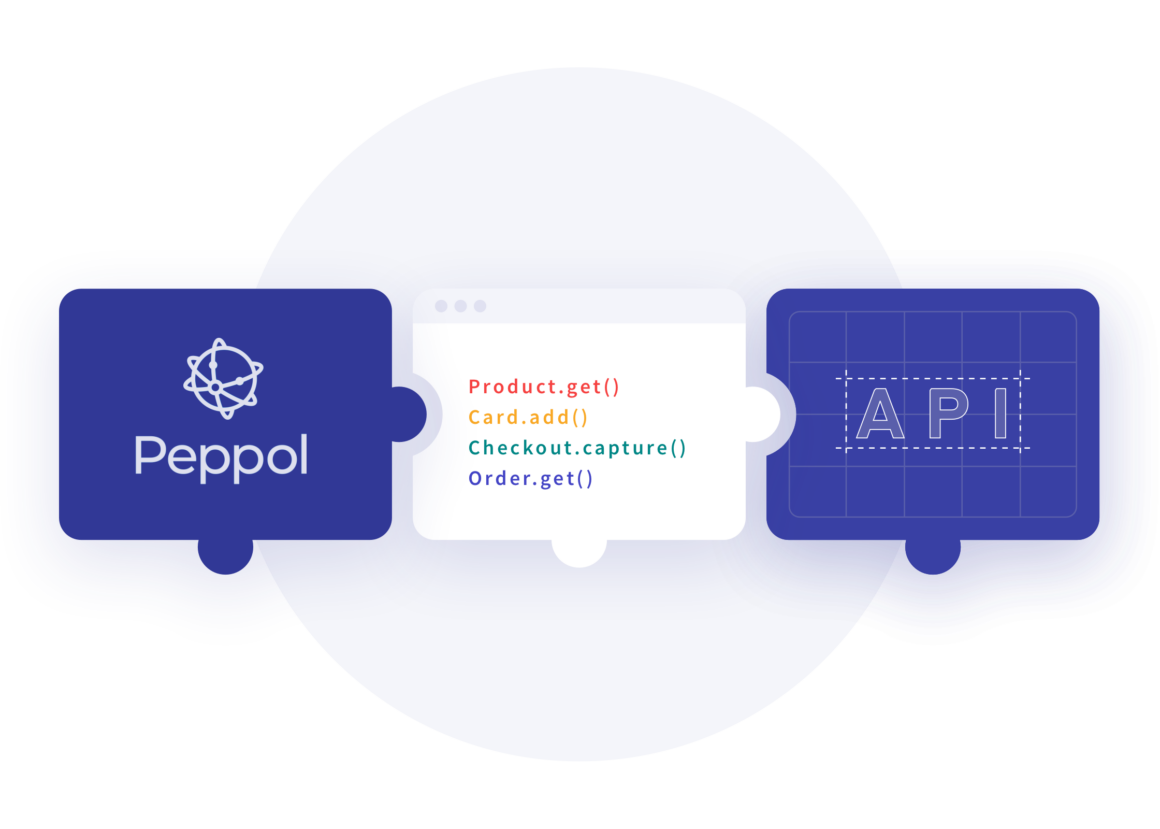 Upgrade to full Peppol Access Point
Use Qvalia as your Peppol Access Point gateway. Send, receive and manage all Peppol business messages. Use our APIs to integrate into your systems and processes.
B2B e-commerce ready
Implement an efficient B2B checkout on your e-commerce, accelerate sales and improve the purchase experience for your business customers. Contact us and discover how we can streamline and automate your order-to-cash process.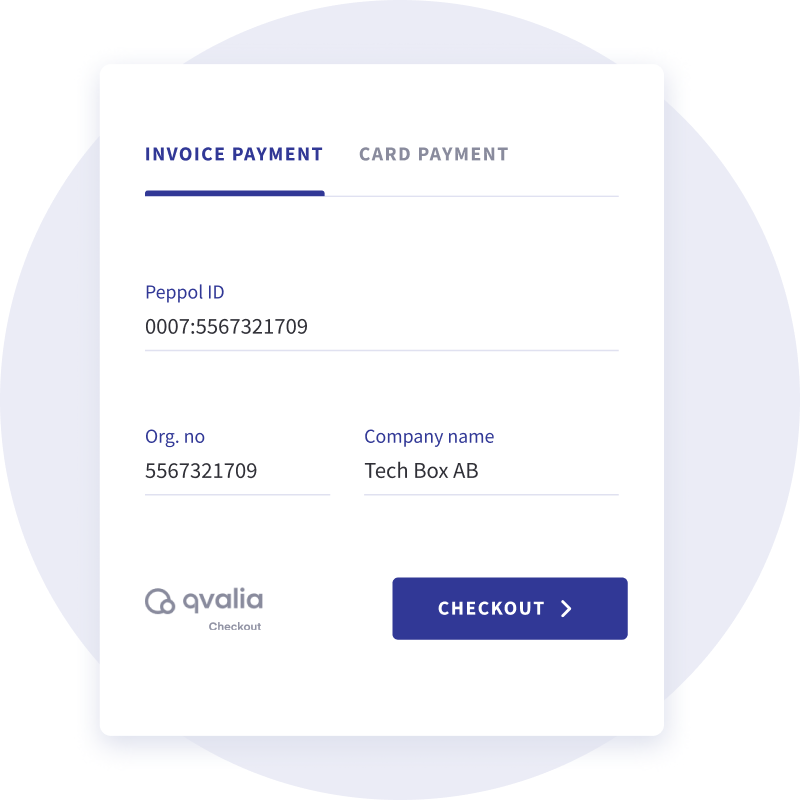 E-invoicing, or electronic invoicing, refers to the process of creating, sending, and receiving invoices in an electronic format rather than on paper or image files such as PDF. This can be done through a variety of methods, such as file transfer or through specialized e-invoicing software such as Qvalia. E-invoicing offers numerous benefits, including increased efficiency, cost savings, and improved data accuracy. It also helps to reduce the use of paper and improve the overall sustainability of the billing and invoicing process.
Peppol is a global network that allows for the electronic exchange of invoices and other documents related to the business transaction process. It was developed by the European Union to make it easier for businesses, organizations, and public sector to trade across national borders by providing a common platform for exchanging electronic documents. Peppol uses e-invoicing standards such as the OpenPeppol BIS Billing 3.0 and the Peppol Transport Infrastructure to facilitate the exchange. By using Peppol, businesses can save time and money on invoicing and other procurement processes, and public sector organizations can increase the efficiency and transparency of their procurement processes.

Qvalia provides free Peppol e-invoicing for SMBs, sign up here.
Can I manage incoming purchase invoices with Qvalia?
Yes, Qvalia's platform can also be used to receive invoices. The process for receiving invoices is similar to the process for sending invoices but in reverse.
You would set up your Qvalia account to receive invoices by upgrading to a premium plan. For more information and access to all Peppol message types, see our pricing plan.
You can integrate via our API to receive invoices and other messages from your suppliers and vendors.
The invoices will be processed by the Qvalia platform, including deviations, and can be stored in the cloud for easy access and management.
The invoices that you receive can be integrated into your accounting system with proper integration, so that all the invoices are synced and accounting records are updated accordingly
Similar to sending invoices, you'll might need to consult our documentation or support team for more detailed information on how to get started and receive invoices using the platform.
How do I implement e-invoicing for business customers on my e-commerce site?
Implementing e-invoicing for business customers on an e-commerce site is easy with Qvalia. The specific steps will depend on the platform you are using, but here are the general steps that would be involved in integrating e-invoicing using Qvalia's platform.
Sign up for a premium account with Qvalia to access our Autobilling features. This will give you access to the company's API and checkout widget, including full payment gateway functionality, which you can use to integrate e.g. e-invoicing functionality into your e-commerce site.
Integrate the widget into your e-commerce site. This step depends on the e-commerce solution you're using. Here are instructions for how to implement the widget in WooCommerce.

Make the required settings, including branding and possible card payment options.

Test your invoice flow process. This should include creating and sending new invoices from the widget and handling any errors that may occur during the process.
Once you have completed the testing and are satisfied with the results, you can go live with the e-invoicing on your site.
E-invoicing services are often integrated with existing systems, such as accounting and CRM systems. Please note that a KYC process is required for full order-to-cash functionality.
Sign up for free. No credit card is required.