The easiest way to categorize and take control of your invoice information
The United Nations Standard Products and Services Code is the leading global classification of products and services. With 50,000 categories in a five-level hierarchy, UNSPSC standardizes codification and makes transactions transparent for every stakeholder in your organization. Get a simplified solution for automated categorization and take control on a line-item level.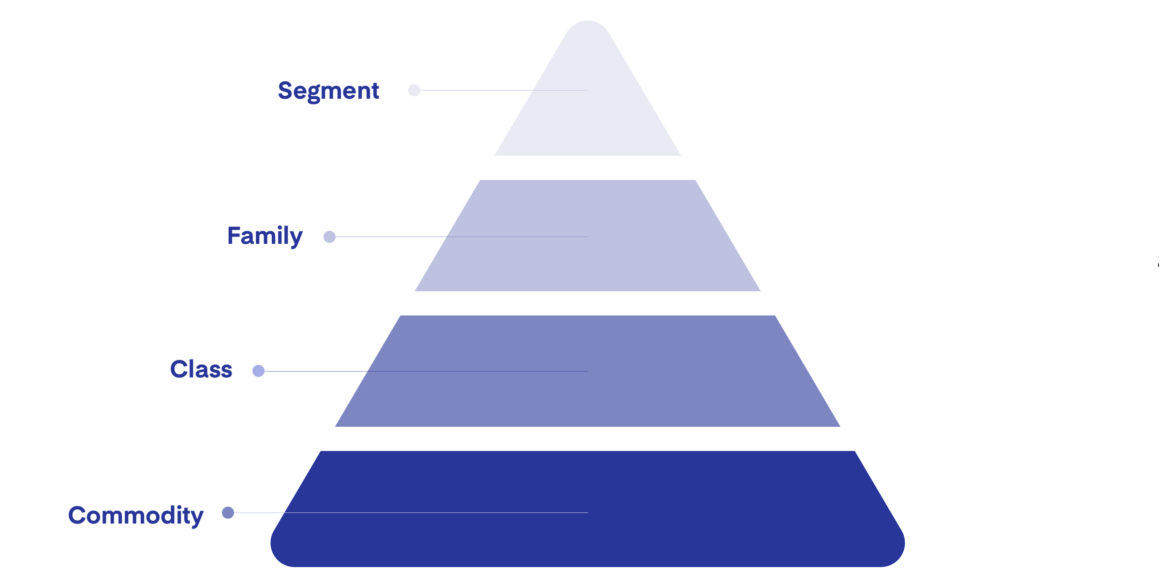 Every line item UNSPSC categorized
With Qvalia, all your transactions are automatically codified to the corresponding UNSPSC class, from top-level categories to each invoice line.
Map to your chart of accounts
Use our built-in mapping tool to map categories to your chart of accounts for greater accuracy and control in your accounting process.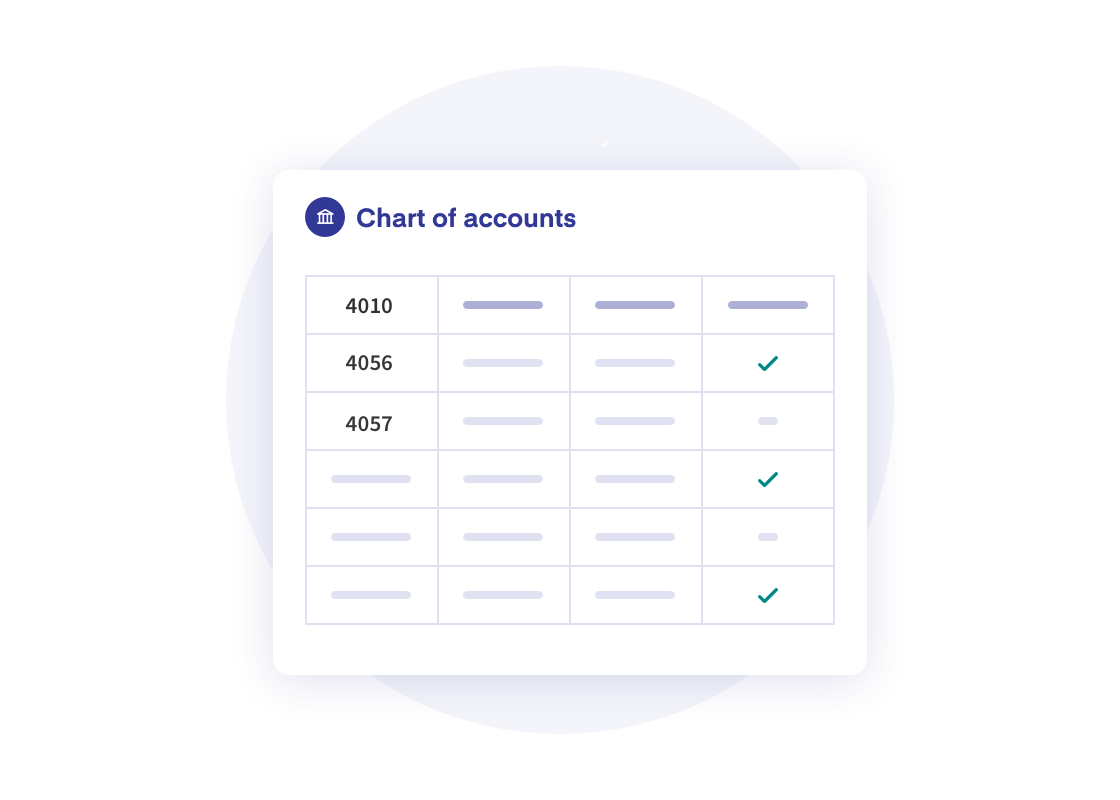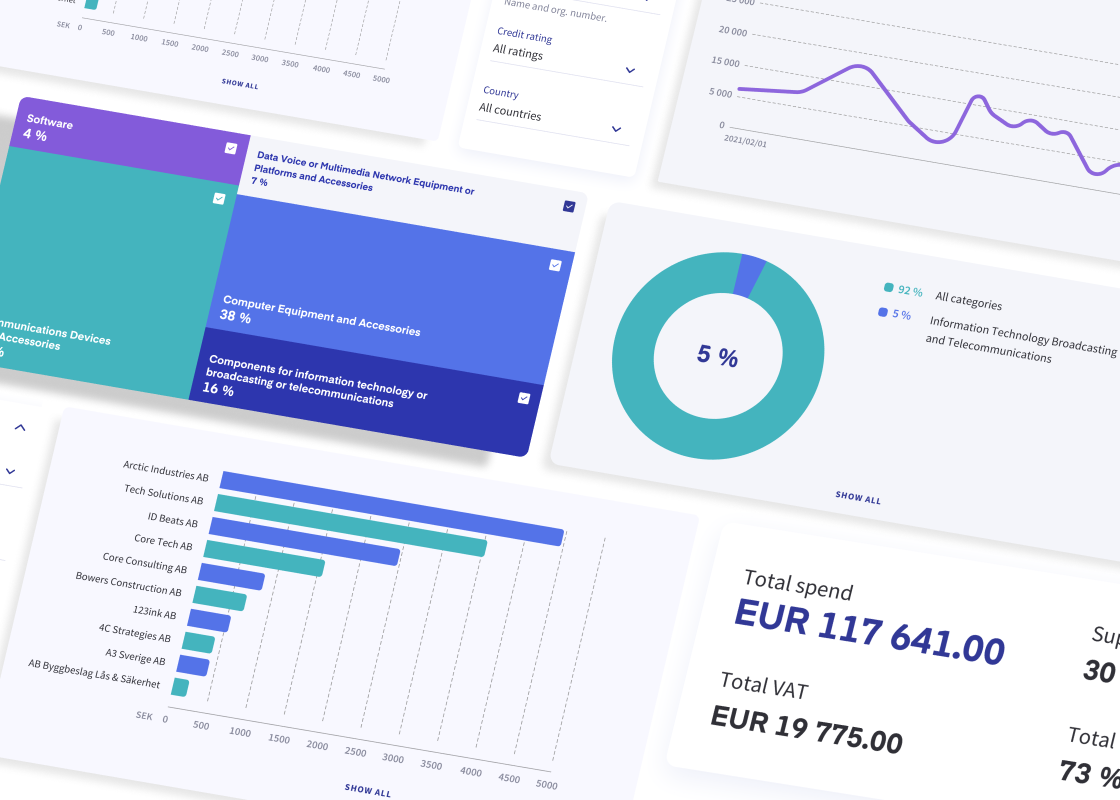 Analyze your spend
UNSPSC classification enables detailed analysis of your spend on a 5-level hierarchy, from top products and services segments to specific commodities.
Quick integration
UNSPSC categorization is easy to integrate into your process. Provide us with your invoices via SFTP or API, and we'll return structured and categorized data.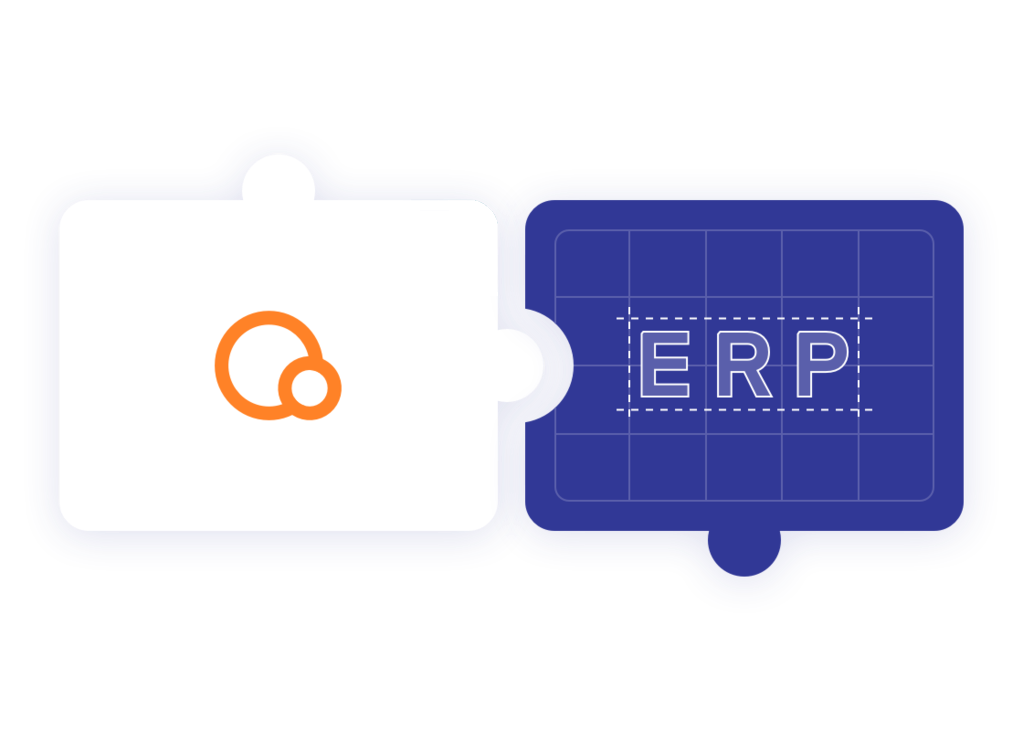 UNSPSC (United Nations Standard Products and Services Code) is a global classification system that provides a hierarchical structure for classifying goods and services. The system is used to classify and catalog products and services in a consistent and standardized way, which makes it easier to search and find products and services, and to track procurement data. The UNSPSC is made up of levels, from the most general (level 1) to the most specific (level 5), and includes to date over 50,000 products and services.
The UNSPSC codes are used in various industries and domains, for example, supply chain management, e-commerce, procurement and sourcing, logistics, inventory management, and accounting. It can help in classifying products in a B2B e-commerce platform and is particularly useful for spend analytics and the creation and tracking of purchase orders, invoices, receipts, and other procurement-related documents.
The UNSPSC system is maintained by a not-for-profit organization called GS1 (formerly the Uniform Code Council). It's constantly updated with new products, services, and industry codes to ensure its relevance and accuracy. The codes are free to use and can be downloaded in various formats, including Excel and CSV, making them easily usable in different processes and software.
UNSPSC is available in all Peppol transactions with the item classification code field.
UNSPSC classification of products and services can be added to business documents objects such as purchase orders, invoices, electronic documents, and product catalogs. By incorporating UNSPSC classification standards into your business, procurement, and finance processes, your organization and all stakeholders throughout the extended supply chain will see the benefits.
Procurement teams will be able to effectively track spending on different products and services by utilizing the detailed commodity codes provided by UNSPSC. This information allows for a more accurate analysis of procurement processes and can significantly reduce the time and effort required to find the products needed through searching across different suppliers, online exchanges, and business partners. Additionally, utilizing UNSPSC codes allows organizations to conduct detailed spend analysis and identify buying patterns across different departments or business units, which can be leveraged to negotiate better terms with suppliers and ultimately realize savings.
Marketing teams can quickly access field data for market research, product development, and sales analysis, resulting in improved customer satisfaction and increased revenue.
Sales teams can monitor sales channels and distribution all the way to the end consumer using UNSPSC codes. This allows for faster collection of market intelligence and more accurate sales analysis. Additionally, utilizing UNSPSC codes enables sales teams to expand their reach by publishing e-catalogs, registering with search engines, and utilizing third-party marketplaces, providing access to customers globally.
Finance teams can use UNSPSC classification of invoice data to improve accounting processes with better precision in accounting records and reporting, and automate workflows.
Does Peppol support UNSPSC classification?
UNSPSC is available in all Peppol transactions with the item classification code field. For more information, see the official Peppol documentation.
What is the cost of UNSPSC classification?
Fully automated UNSPSC classification of invoice line items is included for customers subscribing to the Insights plan. For more information, visit our pricing page.
How does UNSPSC classification work in Qvalia?
Customers can upload historical invoice data and export fully categorized line items for analysis in most third-party BI solutions, or access Qvalia's Spend Monitor dashboard, by logging in on the platform, for real-time analysis of transactions using built-in analytics tools, graphs, and charts.
UNSPSC classification is an automated feature available to subscribers to our Insights plan.