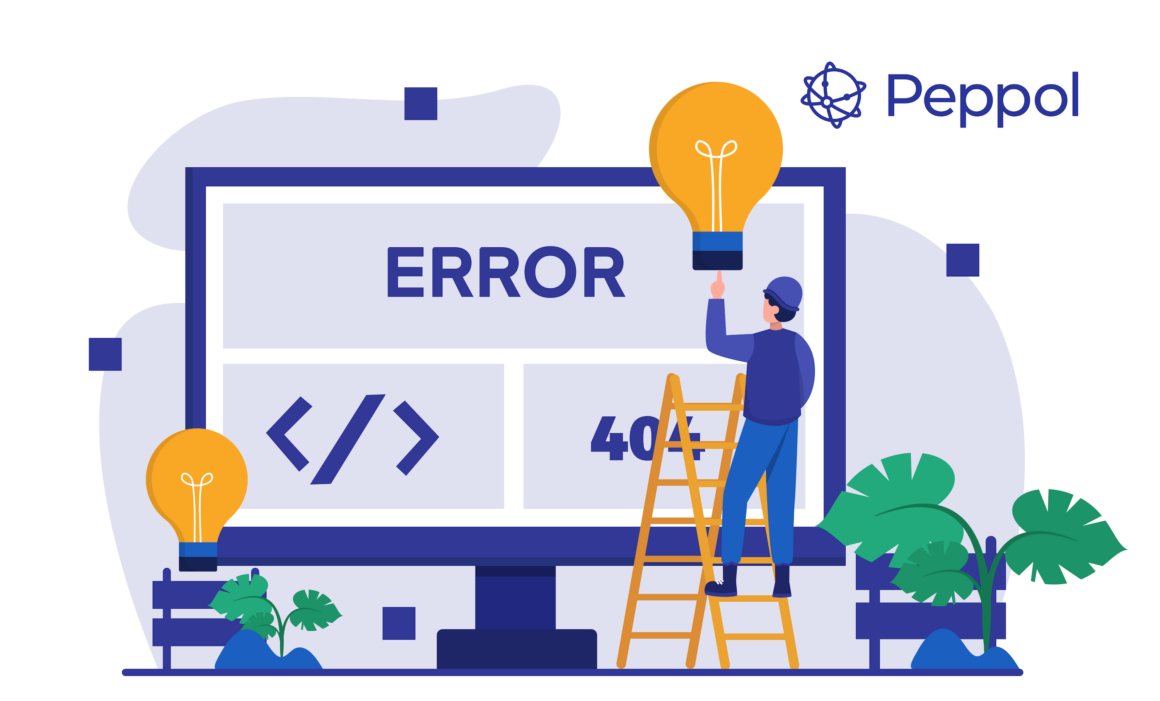 What are the most common e-invoicing errors and mistakes in the Peppol network?
Peppol is a great infrastructure for exchanging e-invoices and other business documents. It ensures that the input data to companies' financial processes are structured, digital, and instantly distributed. The Peppol network has many advantages, for both buyers and sellers, compared to traditional VAN services and the so-called operator network. It's more cost-efficient, easier to implement and use, and it makes the international exchange of e-documents practically effortless if all parties are registered in a country where Peppol is available.
The network is, however, not stronger than its weakest links. There are challenges, errors, misconceptions, misusage, and even manual handling errors that make the exchange of e-invoices via the Peppol network not as proficient as it could be. In the worst case, messages won't even be distributed to the recipient. Here are the most common missteps in using the Peppol network.
VAN services request testing, testing, testing
Traditionally, VAN services require both internal and additional end-to-end testing for any new setup.
Although this routine is well-established and lucrative for the operators, it is redundant in the Peppol network. Connectivity testing between your system and your Peppol Access Point might still be relevant in some cases, but testing in the Peppol network itself is unnecessary.
Every company with Peppol access can immediately receive Peppol BIS Billing 3 e-invoices. The only thing you need is a Peppol ID.
Invoice lines without products or services
It's not uncommon that invoice lines in Peppol are used as a container for additional information that is not line-item data, such as messages about payments, banking details, or interest rates. Invoice lines should only be used to specify sold products and services — other information just messes with your customer's system.
The invoice line can contain:
Name
Quantity
Net amount
Buyer accounting reference
Time period
Order reference
Allowances or charges
Price details
PDFs disguised as e-invoices (or vice versa)
Sometimes workarounds work, sometimes not. We regularly encounter suppliers that try to recreate the structure of PDFs when issuing electronic invoices.
Sometimes companies use invoicing systems and ERPs based on managing PDFs, and basically transform the PDF image file to an electronic format, to be able to issue to customers with e-invoice requirements.
The consequence is low-quality into in a high-quality format, error risks, and harder processing for the recipient.
Empty invoice lines
Nothing there? Another common mistake, often as a result of emulating a PDF, is leaving blank invoice lines in the e-invoice. Apparently, they are entered as a line break.
Given the digital nature of e-invoices, it is obviously a counterintuitive practice as that the recipient can visualize information in any way it wants in their system. Also, it inflicts on the processing of transactions in the recipient's system.
Discounts and charges as invoice lines
Invoice lines should never include other information than purchased products or services. Nevertheless, other information is entered into e-invoices by default by some suppliers as a consequence of legacy systems or a lack of understanding of how to manage electronic business documents.
Outrageous attachment file sizes
We all know that PDF files can be outrageously large sometimes, with emails bounces and minute-long file openings as a consequence.
In e-invoicing, it's the same thing. Even if OpenPeppol, the governing non-profit organization in charge of the Peppol playbook — how communication in the network is conducted — has recently increased the file size from a total of 10 MB to 100 MB, it can still be an issue.
Peppol Access Points can also have individual limitations, differing from the official guidelines. For example, when large image files containing blueprints, photos, and other graphical content are distributed as an attachment to the e-invoice, the file size can quickly surpass the limit on either the network or the recipient's Access Point.
File sizes also increase with attached high resolution PDF invoices (>600 dpi) — which aren't even allowed in. Peppol. More about that in the next segment.
E-invoicing as an excuse to send PDF invoices
The idea of e-invoices, and other electronic business documents, is to simplify the exchange of structured transactional data, right? Image files such as PDFs should obviously not play a key role in transferring your vital information if you want your process to be digital.
However, some suppliers use e-invoice networks to send PDF invoices as attachments and include in these files essential information which is not entered into the structured e-invoice message.
Besides making processing much more manual for the recipient, with all its implications in terms of efficiency and risks, it Is also against the terms of usage in most networks, especially in Peppol:
The attachment functionality is not intended for of including a copy of the invoice in an image format (such as PDF). Attaching an invoice copy is not in compliance with this specification

OpenPeppol 6.2.10 Binary Objects
Uncategorized invoice lines
Product and service categorization data is a hidden gem in the management of e-invoices. For the most forward-leaning companies, the ambition is often to make the most of the transactional data — and at the same time provide a great buyer journey for even the most advanced customers.
Even if this isn't a mistake per se, it is undoubtedly for many companies a use case of e-invoices that has significant room for improvement. The capacity to provide categorization data of sold products and services makes analytics and accounting easier for both supplier and customer. Even if it's not a legal requirement of invoice information, it is nevertheless an increasingly requested kind of metadata.
Mandatory information missing — no order or buyer reference
The Peppol ID is the only endpoint information you need to make sure your e-invoice finds its way to the right recipient. It is, in other words, the inbox address.
However, to make sure that the network can distribute the invoice, even if the Peppol ID is correct, some additional information must be included. Here's where too many suppliers fail — you need either an order reference or buyer reference entered into the e-invoice in the designated line, or else your e-invoice will get stuck halfway.
"N/A" instead of mandatory information
N/A is not applicable (pardon the pun) for mandatory information fields in e-invoices. However, suppliers occasionally fill in "N/A" as a substitute text in message fields, such as previously mentioned order or buyer reference, when they lack sufficient information. It can also be a result of wrongly calibrated invoice creation from the ERP.
Invalid information like "N/A" doesn't prevent e-invoices to be distributed in the Peppol but it can cause problems and extra work for the recipient as information processing gets fed with wrong data.
An informed guess is that a staggering 1 of 20 e-invoices in the Peppol network has "N/A" stated in mandatory fields instead of valid information.
Fortunately, these challenges are pretty rare. Keep your systems in order, let go of the focus on PDFs, and keep track of the Peppol guidelines and you won't have anything to worry about. Download our guide to Peppol e-invoicing and get a quick introduction to the electronic exchange of business documents, Peppol, message types, and more.