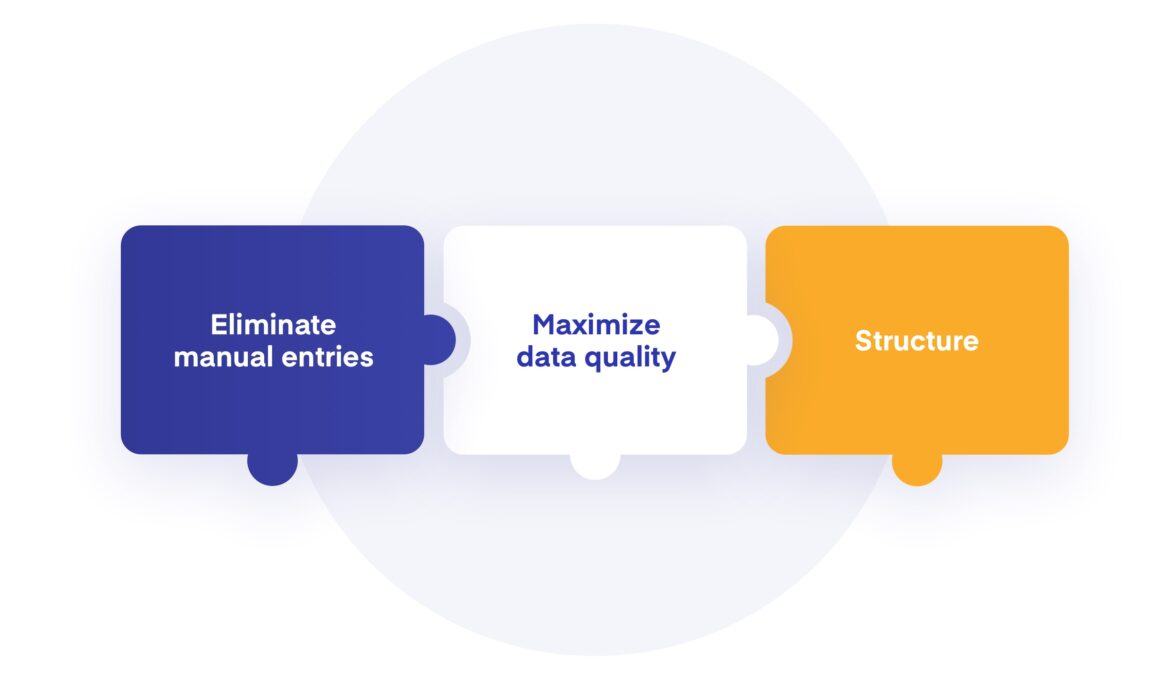 Digital transformation in finance is complex—but it might be more straightforward than you think to get started. Here are the building blocks of successful finance automation.
Successful—and sustainable—digitization and automation are nearly impossible without granular control of the everyday data related to core finance functions.
Any sustainable digital transformation project needs to focus on data and that the managed information is digital, correct, and structured. Ensuring that the financial data is processed according to the general rules of data management is actually a huge step forward. Not at least it helps you avoid deviations—arguably one of the worst enemies of any automation technology.
Data constitute the building blocks of finance automation. Finance teams and digital leaders in the organization need to address these questions make tangible progress:
How is the data entered into the process?
How do we ensure the data quality? How do we know it's correct?
How do we structure, process, and visualize the data according to our needs?
With increased digitization and better data quality, you'll have radically improved capabilities to program your processes, tailor-made for your organization, and gain greater control and enable efficient automation. Whether it's about reporting, invoice management, getting accurate spend data, optimize cash flow and payments, workflows, and any other aspect of the operations in finance.
Let's further explore these three key areas and their impact on your finance operations.
Eliminate manual entries
By reducing the number of manual touchpoints, you'll not only improve the speed of your operations— but also take important steps to avoid costly errors downstream.
By using machine-readable business documents, especially e-invoices, and integrating with external updated data sources, you'll be able to streamline processes and reduce the need for keying in information. This is especially urgent in repetitive tasks.
Here's a few starting points to reduce the need for manual entries:
Chart your process. Make it as visual as possible to get an overview of hurdles and opportunities for optimization.
Pinpoint manual touchpoints. Make a shortlist of every step of the process in need of manual entries, from invoice postings to adding new suppliers to the record.
Evaluate your stack, explore additions. Review your current IT systems and setup and their capabilities in reducing manual entries. Investigate the possibility of adding cloud-based tools to fill the gaps.
Maximize your data quality
The quality of your information is an essential factor for success in digital transformation. Let's briefly explore what defines quality from a data perspective in finance.
An important aspect is certainly the correctness of the information. Take invoices as an example; does it include the required information? Does it correspond to the delivery and the business agreement? Another aspect is the medium carrying the information. Is it easily understandable and able to process? Is it machine-readable? An absolute majority of invoices are still PDFs that require scanning and interpretation before further processing, which is a huge contributing factor to why some 90% of invoices worldwide are still processed manually.
By increasing the data quality, you'll be in a better position to streamline your processes and make automation more effective. Given that deviations 99 times out of 100 require manual work—whether relating to invoice processing, accounting, payments, reporting, or any other aspect of finance operations—they always risk short-circuiting any automated process.
Improving the data quality is, for many businesses, the natural first step towards solid and sustainable automation in finance.
Go digital. Businesses that quickly want to improve the data quality should adopt e-invoicing as a cornerstone in their transactions. Require e-invoices from your suppliers to increase the share of electronic data. Other steps might be digital contracts and exploring the availability (and usability) of electronic post infrastructures. Make sure that new processes for storage and integrations are clearly defined and implemented.
Automate validation. Ensure you have the right tools to automate the validation of high volume and work-intense business documents such as invoices. Define your specific rules and requirements and enable technology that identifies and manages deviations for you.
Use international standards. Avoid interoperability problems (and consulting fees), use global standards such as Peppol.
Structure your data
High-quality, machine-readable data can work wonders for your finance process. With the right technology, structured financial data is not only a prerequisite to prevent errors—but a way to provide new insights, especially in pressing areas such as procurement or accounting.
Digitally structured, validated, and approved transactions can, for example, be posted automatically into your general ledger on a line-item level. Your business spend can be made visible with much less effort. The analytics can show not just purchases on an invoice sum level—but for every purchased product or service.
Establish spend analysis metrics. Are you buying from the right suppliers to the right price? Are there hidden opportunities for central agreements? Do you need to take more control over maverick spending? Determine the KPI that would be of most value and support your strategic purchasing decisions.
Define capabilities and time frames. What is your current ratio between analog vs. digital structured formats? PDFs vs. e-invoices? The volume of structured data in your current financial data pool determines how far you can come from the get-go.
Simply the accounting process. With a digitized finance process and structured transactional data, you're in the position to reduce accounting complexities. Does your chart need hundreds of accounts if the data is digitally structured and easily accessible? Digital transformation in finance requires adapting to data management rules—not centuries-old principles made for a world of pens and papers.
Finance automation made easy
Qvalia is different. We developed a platform to transform finance operations based on the principles of data management. The result is radically improved automation, better control, and simplified access to your spend information. Our cloud-based technology is easy to set up and integrate into your existing ERP.