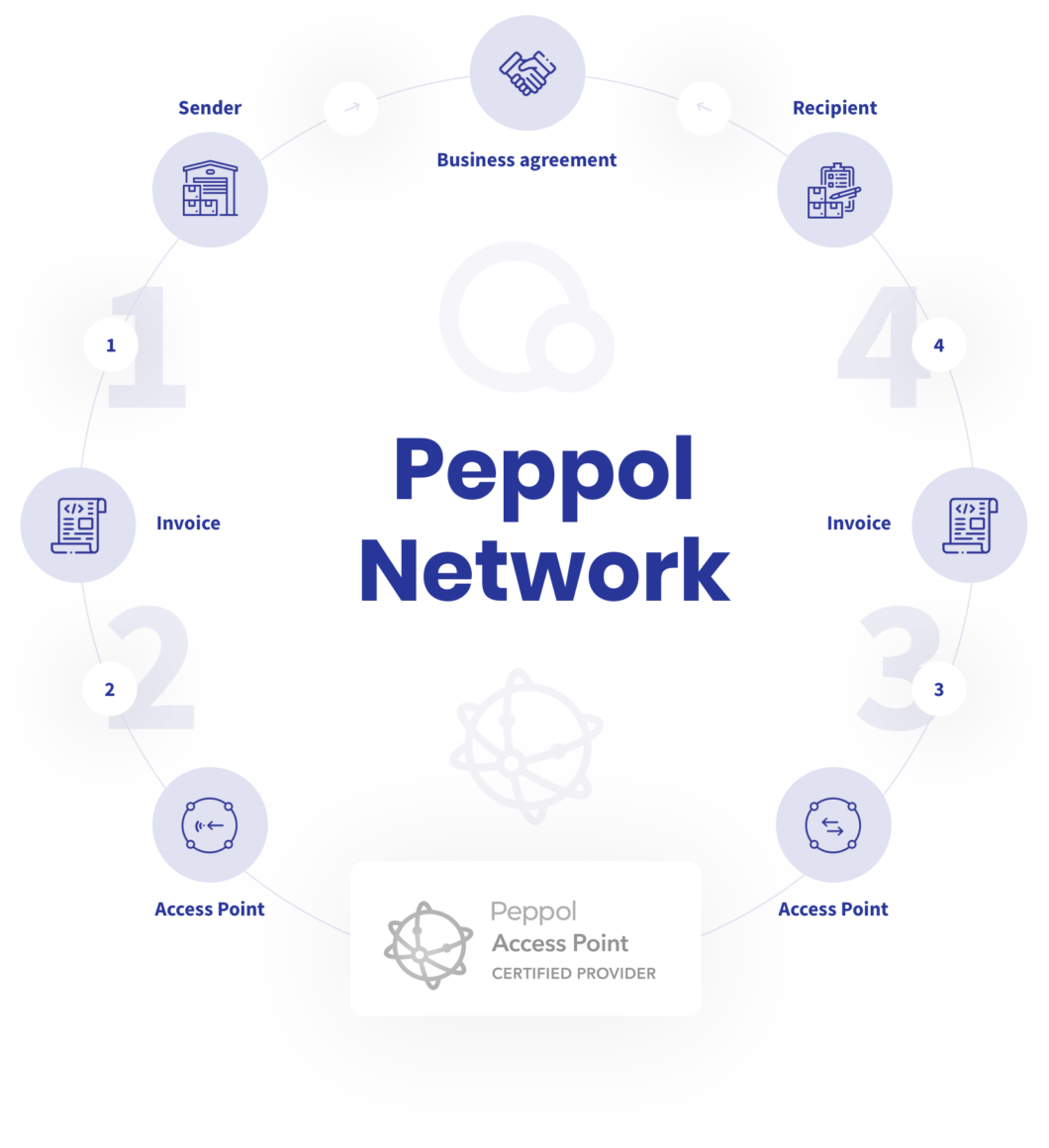 Unlike most other e-invoice networks, Peppol is an open network. Users don't depend on local e-invoice operators' interoperability—and avoid the complexity and costs involved in traditional e-invoice networks.
For decades, the dominant infrastructure for the electronic exchange of e-invoices and other business documents between businesses and organizations has been operator networks.
The networks are essentially links between service providers enabling access to various e-invoice networks. These service providers go by the name of e-invoice operators, VAN services, VAN operators. VAN is the acronym for Value Added Networks.
The closed network setup
Traditionally, the setup has been somewhat problematic, creating a threshold for a faster adoption rate of e-invoicing.
In general, companies have been required to go through these steps:
Both sender and receiver of the e-invoice must have separate agreements with an e-invoice operator.
The sender's and receiver's e-invoice operators must have an interoperability agreement to process their e-invoices.
The operators need to make a technical setup, including testing, to enable e-invoices to be processed.
Additional format conversion is often required to allow further processing of the e-invoice within the company's ERP.
The traditional operators' gatekeeping position has maintained this "closed network" structure, built barriers for innovation, and kept the costs of e-invoicing high for the users. However, this practice is about to change.
Improved and simplified e-invoicing
The emerging open network Peppol enables companies and organizations to quickly exchange e-invoices and other e-documents, just using their Peppol Participant Identifier, Peppol ID. It makes it in practice as easy as sending an email.
By accessing a Peppol-certified Access Point, e-invoices and other e-documents can easily be created and exchanged. No operator agreements or custom-made setups are needed.
Getting access to Peppol
Business partners that want to exchange e-invoices within the Peppol network need to sign up separately at an EU-certified Peppol Access Point, often an e-invoice operator (VAN service).
The next step is to obtain a dedicated Peppol ID, the only thing required to receive Peppol e-invoices and other e-documents within the network. However, you don't need a Peppol ID to send e-invoices within the Peppol network.

The operator might provide you with a tool where you can manage your invoices (commonly through a web-based interface), or, depending on your particular process and setup, you might need to integrate it into your ERP.
Fees for registering and exchanging e-invoices may vary, but users of Qvalia can sign up for free and register one or more addresses within minutes. Sending and receiving e-invoices is also free of charge. Qvalia uses the most up-to-date version of Peppol's data format is the UBL-based Peppol BIS Billing 3.0.
Peppol ID: your unique address
A Peppol ID consists of two parts; an initial four-digit code that specifies the identifier type and the unique identifier number for a particular company or organization, divided by a colon.
In Sweden and other countries, the recommendation is to use the organization number as the identifier number. For example, the four-digit code for a Swedish organization number is "0007", and Qvalia, which uses its organization number, has Peppol ID "0007: 5567321707".
However, exchanges within Peppol can also use GLN numbers to direct e-invoices and other documents to the right recipient. Larger companies with subdivisions or groups can use GLN numbers because multiple instances may share the same organization number.
For companies using GLN numbers, the code "0088" is followed by 13 digits for the GLN number, e.g., "0088: 1234567891234". Peppol has defined the four-digit identifier type codes, and the code differs between countries.
There is no need for local network operators with Peppol Access Point status to contact each other in advance and make specific setups. Most e-invoice operators today are access points, so the risk of not carrying out your transactions is fairly small.
Find Peppol IDs using our global Peppol directory where you can easily search for companies and organizations currently listed on the network.
On Peppol.eu you can find technical information and instructions on how messages are exchanged between Peppol Access Points. Strict controls and validations are built-in features within the network, so e-invoices and other documents are guaranteed to be delivered technically correctly and follow all the rules for a compliant EU invoice.
To summarize: Peppol's open network structure presents a significant improvement compared to the traditional local network structure. From network reach to maintenance costs and usability; companies and organizations with Peppol as a core infrastructure of the finance process has a lead.
Qvalia is involved in several projects to develop the network and support the adoption among companies and organizations.

AS4EDI aims at promoting the use of the eDelivery DSI, Digital Service Infrastructure, by integrating the AS4 protocol into selected Peppol Access Points and their respective Service Metadata Publishers (SMP).

The objective of EURINV19 is to develop and implement advanced e-invoicing functionalities, including full compliance of EN, the European e-invoicing standard, into the software of selected participants across several EU member states.

The contents of this publication are the sole responsibility of Qvalia and do not necessarily reflect the opinion of the European Union.