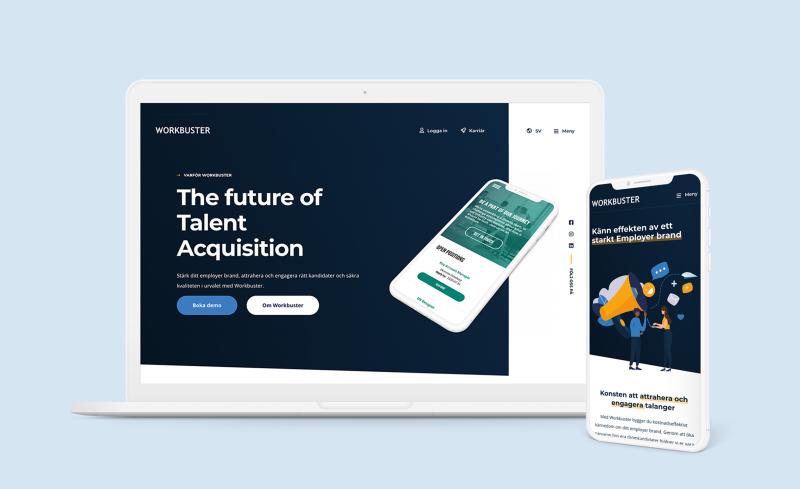 Workbuster digitized its order flow
Workbuster has long experience managing orders and invoices for the Swedish Public Employment Service's private contractors in job matching. When the Public Employment Service decided to digitize the flow of transactions following Peppol, a European-wide standard, Workbuster turned to Qvalia.
They solved this in less than a month. Qvalia acted like a small company in speed and agility, but performed like a large company in know-how and resources"

Peter Spetz, founder Workbuster
Rapid shift to digital orders
A large part of the Swedish Public Employment Service's responsibilities, the national government agency for public employment services and labor policy implementation, is today privatized and performed by private employment agencies and service providers.
Workbuster has long worked as a facilitator in the order and invoice flow between these parties. The company supports about 130 independent providers.
Last year, the Employment Service decided that the flow of orders and invoices be digitized using Peppol, a European network for exchanging e-invoices and other business documents, which has quickly grown into one of the world's largest.
"Our customers and we had a minimal time to change, only two months or so," says Peter Spetz.
The best Peppol solution
After asking five VAN service providers, none of whom could deliver a solution within the narrow time frame at a reasonable price, Workbuster found Qvalia.
The company already had solutions for invoicing, according to Peppol, but not a ready-made solution for e-order handling to the same standard.
"At Qvalia, they were incredibly agile. They were very quick to get order management according to Peppol in their system, and completely according to the tight schedule".
One challenge was the significant transaction volumes that Workbuster manages. For example, during the last 12-month period, 250,000 new participants have been handled for the Swedish Public Employment Service's program, where the number of transactions of invoices and orders is close to one million.
At Qvalia, they were incredibly agile. They were very quick to get order management according to Peppol in their system, and completely according to the tight schedule

Peter Spetz, Workbuster
"We got in touch with Qvalia in September, and in October everything was ready, and the first customer started. It took less than four weeks. We are delighted with Qvalia", says Peter Spetz.
Qvalia's solution is a platform where companies can quickly digitize and automate financial processes within purchasing and sales. The platform is modular and can be adapted based on users' requests and needs in e-invoice management, automated accounting, and analysis. It is integrated easily with existing systems, such as ERP systems or accounting software.
Complete Peppol infrastructure
Henri Taipale is the CEO and founder of Qvalia. He says that they had a first meeting with Workbuster on a Friday, and the following Monday they were able to present a plan.
"At Qvalia, we are highly Peppol-oriented. Our infrastructure is based on the network as a framework. The digitization that follows is a prerequisite for our value-add solutions, for example, in accounting automation and analytics", he says.
Compared to traditional e-invoicing and e-order management using VAN services, Peppol has several advantages. It is easier to get started with transaction flows and processing, and you do not have to risk time and extra costs when invoices are sent between different service providers, for example.
The openness and international coverage have meant that the network is well on its way to becoming the global standard for e-invoicing.
"We have our proprietary custom-built technology for the entire infrastructure, which means that we can rapidly create tailor-made solutions for our customers. That's how we were able to deliver our solution to Workbuster so quickly".
The digitization that follows is a prerequisite for our value-add solutions, for example, in accounting automation and analytics

Henri Taipale, Qvalia