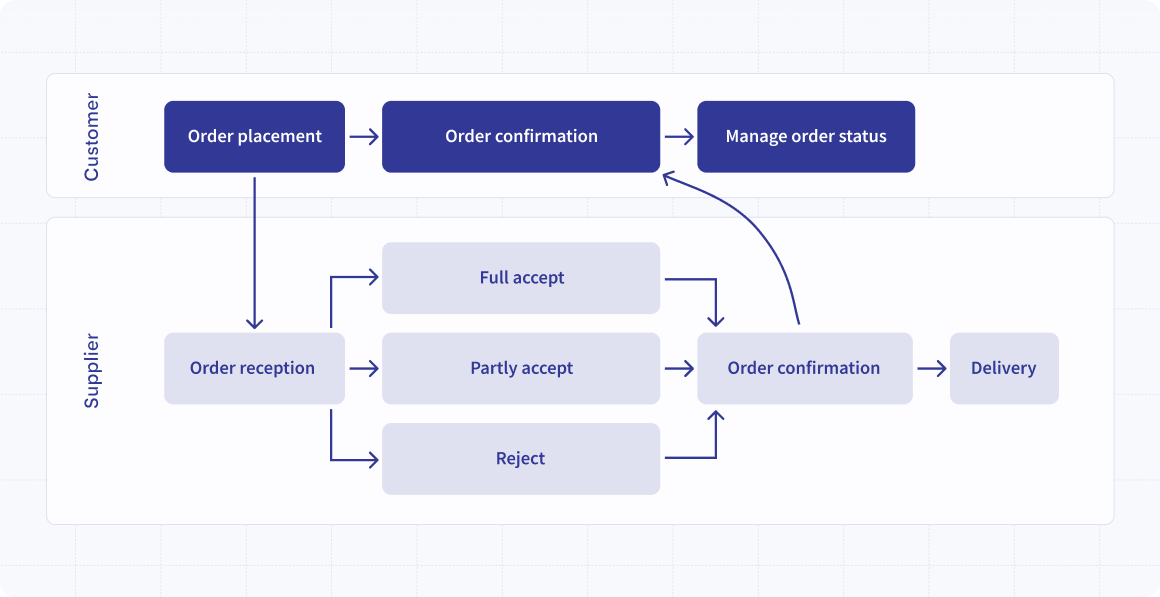 There's no denying that e-ordering makes procurement easier for clients while helping suppliers maintain a lean sales process and stay ahead of the competition. Here's how e-orders work in Peppol, and why it's a win-win.
That's because the information exchange and order processes Peppol enables follow a unified standard. The machine-readable information leads to improved access to real-time data, efficient customer and order management, and the possibility of further automation. Other benefits include secure, lossless, and instant distribution.
Peppol supports virtually all types of transactions because, with an open network, the people jointly agree upon what the message should look like.
Read on to learn how Peppol BIS (Business Interoperability Specifications) Ordering messages can work for your business.
How e-orders work in Peppol with BIS Ordering
The BIS Ordering message process goes like this: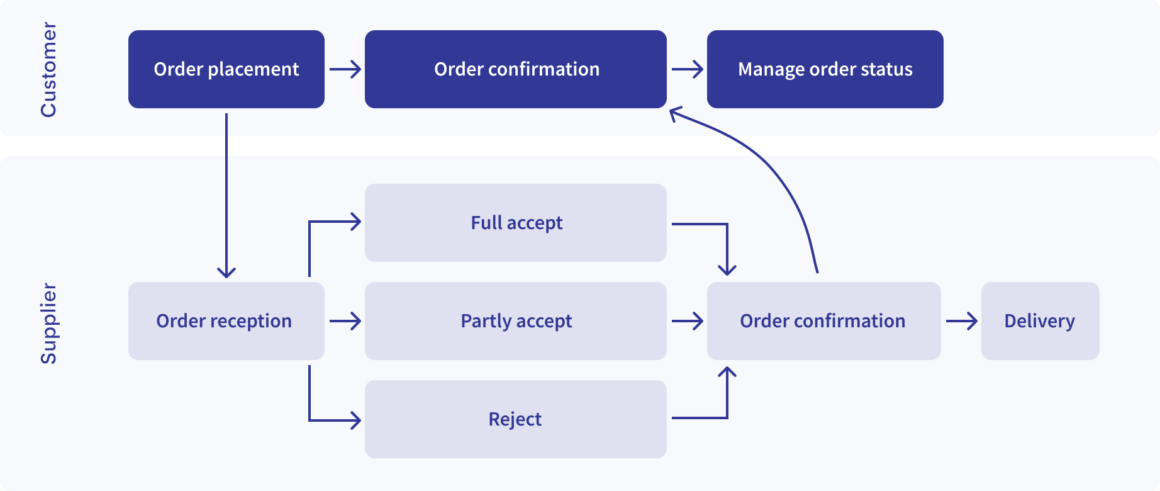 A step-by-step breakdown of the Peppol BIS Ordering process
1. The process starts with the customer creating an order in their purchasing or ordering system. Then, the order gets submitted based on a catalog, purchasing system, or manual entry.
2. The order is sent as a structured message via Peppol to the supplier. The only requirement for orders to find their way to the recipient is a Peppol ID. In this step, the customer needs sufficient information about the requested product or service, exchanged via email in Excel, PDF, or through the website. The customer can also view the stock and prices via Peppol in the form of an e-catalog provided by the supplier. However, you must send the correct type of information in the order message, including the chosen product or service, quantity, and other identifiers.
3. Once the supplier has received the message, they can either accept the order in its entirety, partly accept with a line-based response to highlight changes for things like quantity or specify substitute products, or reject the order in its entirety.
4. This response is communicated through a confirmation message sent back to the customer. This confirmation can indicate stock supply, delivery times, and more. Peppol also supports order messages that do not require order confirmation, called Peppol BIS Order only.
5. The customer can update the order status in its system, and the supplier can start the delivery according to the agreement.
The easiest access to e-orders
The Peppol BIS message primarily contains information about the order and the requested products or services status. Managing e-orders takes place behind the scenes in the customer's ordering or purchasing system and the supplier's order management system.