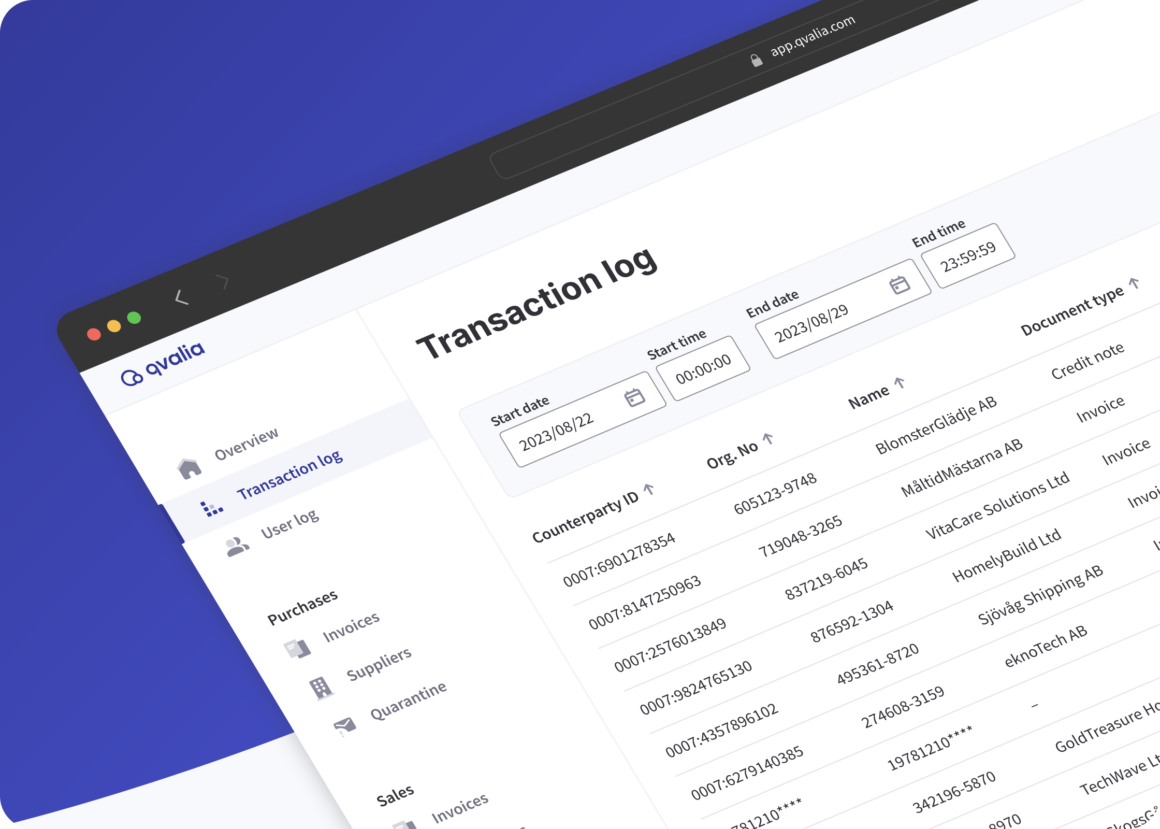 In our latest release, Qvalia introduces new features for improved transaction and user logging, increased security and simplicity with SSO, and new capabilities in contract compliance and spend analytics. The new features have previously only been accessible to a select group of customers, but are from today, 05-10-2023, available to all, subject to subscription plan.
Advanced logging with Transaction and User logs
Ensuring complete and accessible exchange and usage records is essential for control, traceability, and audit trail. Qvalia introduces advanced capabilities to create, view, and export a complete range of logs to support transaction record tracking and user activity based on 24 message parameters.
In the new Transaction log, users and administrators can view, search, and filter lists of historical transactions of business messages. The User log provides insights into user activity on the platform; view, search, and filter historical user activity. Search and filter multiple parameters, including metadata, document ID, type, message status, company registration number, transformation method, delivery method, and more. Main KPIs are available in a new dashboard view, including exchange volumes and error messages. All lists can be exported to CSV format.
Transaction logs and User logs are available to Peppol Access Point customers. For more information and to enable access to the feature, contact us.
Key features
Business message log
User activity log

View

Search
Filter
24 parameters
Custom time range
Export lists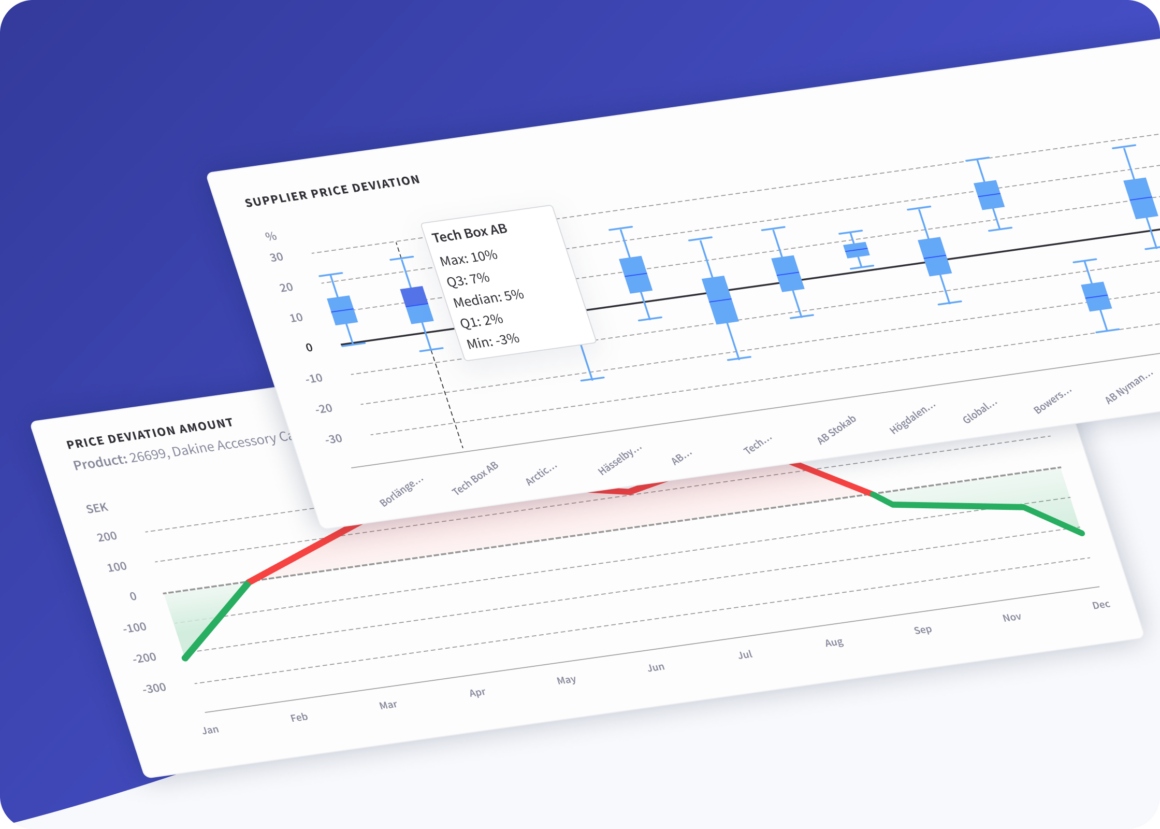 Improved contract compliance with price deviation analytics
Deviations between agreed and actual prices are crucial insights for contract compliance and spend analysis to increase organizational efficiencies and reduce costs. Today's release enables Spend Monitor and Analytics users to automatically and instantly track and analyze deviations between purchase and list prices based on contracts or agreements.
Users can upload price lists and choose to analyze deviations, purchase amounts, and percentages based on invoice line items, invoices, and suppliers. Qvalia will automatically identify items from uploaded price lists and compare them with the line-item information on supplier invoices.
For example, if the contracted price of a specific product or service is 100 EUR and a supplier invoice states 110 EUR for the same item, users will instantly recognize an amount deviation of +10 EUR and a percentage deviation of +10%.
Price deviation analytics is available to Spend Monitor customers. Contact support for more information.
Previously accessible to a select group of customers, the new features are, as of today, available to all, subject to the subscription plan.
Dynamic single sign-on
Single sign-on (SSO) enables seamless access to multiple systems without needing multiple password logins. SSO is now available, providing established authentication methods for all premium users upon log-in.
Customers gain increased control over authentication methods, simplify login procedures, reduce time spent, and increase password security with, e.g., multi-factor authentication.
For more information and to enable access for your account, contact support.
Authentication methods
Microsoft (Azure AD)
Google (Gmail)
Github
GitLab
Apple
AD / LDAP
Generic OIDC / Generic OAuth