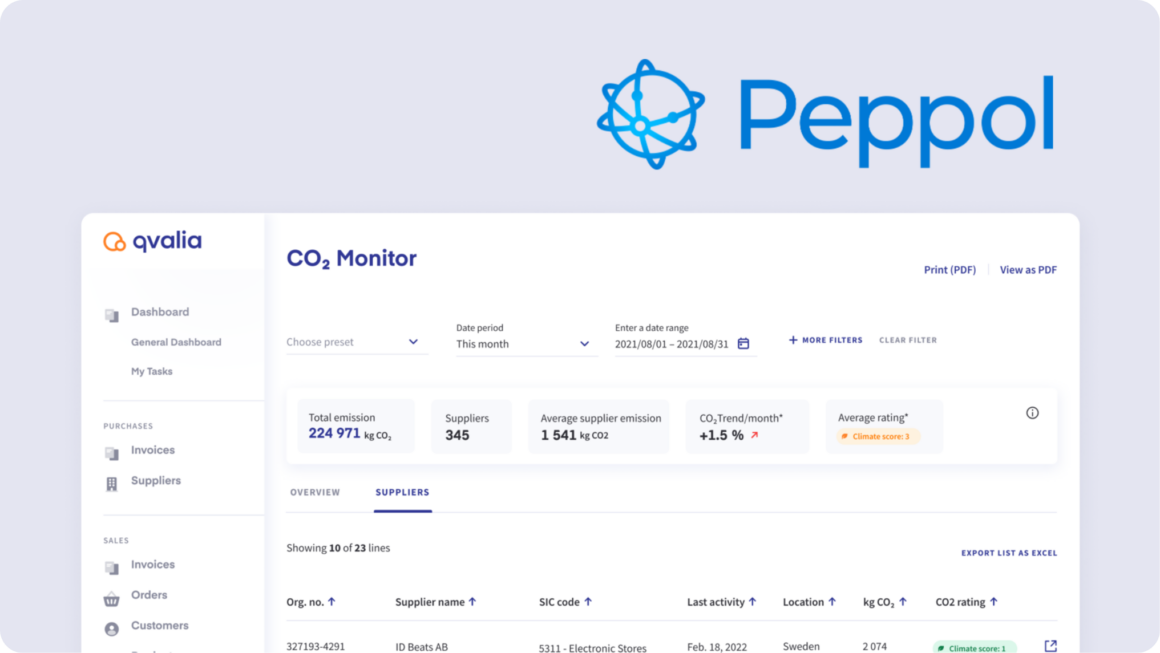 Data quality becomes critical in achieving ESG compliance and reducing carbon footprints, and no information is closer to actual business events than transactional data. Here's why the business network Peppol can be an essential infrastructure for monitoring and reducing emissions.
There is a much-needed — and growing — focus on the impact of carbon emissions on the environment and the need to reduce them. To this end, the European Union has introduced new regulations that require companies to track their carbon dioxide (CO2) emissions and report them accurately to authorities. The new requirements, including emissions in the three levels of scopes, can undeniably be a challenge. Luckily, there's an infrastructure in place that can become an essential part of the solution.
Read on to learn the importance of data quality in ESG compliance and how to utilize the Peppol network to effectively obtain and share information on a product and service level.
New EU regulations
Several EU regulations require companies to report their environmental impact, including carbon emissions. The legislation applies now to larger companies but might soon include a more extensive scope, organizations big and small.
Here are some of the most notable EU regulations:
Corporate Sustainability Reporting Directive (CSRD) will 2025 replace the 2014 non-financial reporting directive (NFRD, see below) within the EU. Applies to all large companies, including companies listed on regulated markets. Combines existing reporting protocols, including GHG protocol for greenhouse gas reporting, the international standard since 2001. Mandates obligations to identify scope 1, 2, and 3 emissions.
EU Emissions Trading System (EU ETS) – A cap-and-trade system limiting the amount of carbon emissions companies can produce. Companies regulated within EU ETS must purchase allowances to cover their emissions and report them annually.
Non-Financial Reporting Directive (NFRD) – This directive requires large companies to disclose information on their environmental, social, and governance (ESG) policies and their impacts on society and the environment.
Energy Efficiency Directive (EED) – This directive requires large companies to conduct energy audits and report on their energy consumption and savings.
The Waste Framework Directive (WFD) – This directive sets out requirements for the management of waste, including the reporting of waste streams and their environmental impact.
Overall, these regulations aim to increase transparency and accountability in corporate environmental reporting and to encourage companies to reduce their environmental impact and comply with the increased demand for ESG transparency.
Data quality and CO2 tracking
Data quality refers to the accuracy, completeness, and consistency of data used in business processes. In the case of tracking CO2 emissions, data quality is essential for accurately measuring and reporting emissions, identifying areas of improvement, and making informed decisions on reducing carbon footprints.
Poor data quality can lead to inefficient process automation, lack of or corrupt analytics, and inaccurate reports. In all, making it difficult for companies to comply with the new EU regulations may result in penalties.
The importance of data quality in tracking CO2 emissions is further underscored by the fact that there are different methods of measuring emissions.
The accuracy of the results depends on the quality of the data used. For instance, the direct measurement of emissions from sources such as power plants or factories is relatively straightforward (scope 1 and 2 emissions), but indirect emissions from suppliers, transportation, or the use of products (scope 3) are more challenging to measure accurately.
This is where high-quality data and the capabilities to process this data seamlessly become critical to providing a reliable and comprehensive view of emissions.
To achieve data quality, companies must ensure that they have the proper data management practices in place. This involves implementing data governance policies, ensuring data accuracy and consistency, and having effective data monitoring and validation processes.
The input data, in any process, need to be structured and digital to be fully machine-readable, putting pressure on, for example, suppliers to use e-invoices and other electronic business documents in the commercial exchange.
Common data quality errors
Before launching our platform, Qvalia has been analyzing accounting data for the largest companies in the Nordics for over ten years. During this time, we've observed many common errors in data management that occur through the processes — findings that have been the foundation of our business transaction platform.
In short, companies need to address common errors in data management to achieve higher data quality. In the transaction management process, these errors include:
Incomplete data – Missing data can significantly impact CO2 emissions reporting accuracy. Companies need to ensure that all relevant data, including supplier data, is captured.
Inaccurate data – Incorrect data can lead to inaccurate reports, making it difficult to comply with EU regulations. Companies need effective data monitoring and validation processes to identify and correct inaccurate data.
Lack of standardization – Non-standardized data can lead to confusion and inconsistencies in reporting. Companies need to establish data governance policies that promote standardization in data management processes.
Data silos – Siloed data can make it difficult to analyze data holistically and identify areas for improvement. Companies need to have adequate data integration processes to break down data silos and achieve a comprehensive view of their emissions.
Companies must invest in data management practices and analytics tools to achieve high-quality data and ensure compliance with the new regulations. By doing so, they can contribute to reducing carbon emissions and help protect the environment for future generations.
Data analytics, classification, and master data are all good places to start.
Data analytics
Data analytics tools can help analyze and interpret data to identify areas for improvement and measure the effectiveness of their carbon reduction efforts, as well as be the foundation for reporting.
Classification
Product and service classification, for example, using the UNSPSC taxonomy, contributes to identifying categories of products and services to understand better the resources used across the organization. Classification, used for example, when conducting a spend analysis, can be very time-consuming, but there are now automated solutions on the market.
Master data
Master data management of supplier and customer records can contribute broadly to complying with ESG requirements, for example, to avoid specific industries and black-listed companies. By automatically updating information according to official business registries and monitoring critical business events, companies can achieve much greater control of the supply chain and life cycle assessment.
Using Peppol for CO2 data exchange
Data quality depends heavily on correct data input. Tracking and reporting emissions is no different from more common types of business data, for example, sales and purchase data, such as amounts, VAT, shipping, etc. You need correct figures structured so that the information can be processed in your ERP.
For CO2 emissions reporting and complying with the broader part of scope three life-cycle assessment, there are obviously no better sources of information than the suppliers themselves to provide information on products or services.
The most effective way of achieving high data quality in CO2 emissions reporting is by using transactional data and sharing CO2 footprint on a line-item level on all customer invoices. Companies can put pressure on suppliers to exchange this information, which will be reported in close to real time.
The good news is that the infrastructure is already in place. Peppol, the international business network for electronic business documents, is ideal for exchanging this information, seamlessly along with the transactional document, for example, invoices.
However, as of yet, there is no field for emissions data in Peppol BIS, which for instance, can be found in UBL, but this is expected to change. In the meantime, use the data field cac:AdditionalItemproperty to include emissions data in Peppol.
Looking forward, there is a strong trend of increased reporting obligations and requirements for data accuracy and quality. CTC — real-time VAT reporting to tax authorities — is a technology to watch for a possible clue in what is to come. This technology is gradually becoming more common, and the technology as well as the legislation, are already in place in some countries. Don't be surprised if we see similar EU-wide requirements for environmental reporting coming up.
In conclusion, by addressing the common errors in data management — and using transactional data to share CO2 footprint on a line item level on invoices via Peppol — companies can achieve high data quality in their CO2 emissions reporting by sharing the information and help everyone take a big step to comply with the new EU regulations, reduce carbon footprints, and contribute to a sustainable future.