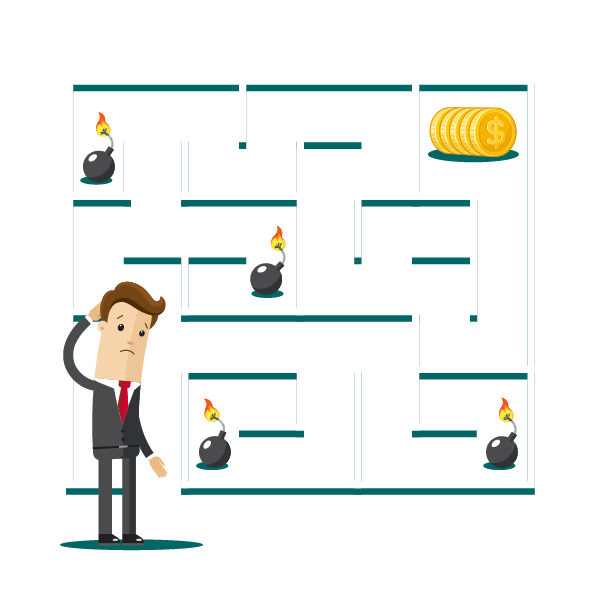 Accounts payable teams are on their toes to process transactions as efficiently as possible. However, some challenges keep making work unnecessarily hard.
Besides adding to the workload, they also constitute a critical threshold in adopting digitally aligned processes. In other words, they affect the ability to increase automation. Here are the top five challenges for accounts payable.
1. Analogue data, manual work
One of the most frustrating tasks is keying invoice data into the workflow.
Even in today's digital age, some 90% of all invoices globally are still managed manually. It doesn't only consume enormous resources that could be spent on more critical tasks, but it also constitutes a significant source of errors.
Manual handling, notably paper or PDF invoices, is an obstacle to efficient structured data.
These road bumps make digital transformation challenging and are in many ways the antithesis of automation.
2. Software silos
Undisputedly, the tools at hand for accounts payable teams and purchasers in the organization are essential to get the job done.
Productivity has been raised thanks to technology, but also complexities, pace, and demand.
Today's vertical software silos – from accounting, procurement, and spend analysis, to invoice management and order systems – are ill-equipped to take automation to the next level. The main concern is that silos duplicate data.
The silo effect becomes more challenging due to the vast number of formats processed by A/P teams and others. Conversions are tricky, tedious, and costly. The sharing of information in real-time risks begin non-existing, internally as well as between buyers and sellers.
Essential but often complex metadata like VAT related information gets distorted if the technology at hand supports it at all.
3. The storage dilemma
Accounts payable teams produce and process large amounts of documents.
These documents do not only require attention from the rest of the organization in workflows, processes, and accessibility – but is also something in need of storage and archiving.
Legal requirements, as well as requirements from the business, demand easy and secure access to documents.
The storage dilemma becomes even worse, due to the vast variety of document formats, making processes and accessibility increasingly complex.
4. Mismanaged VAT
VAT is a significant source of headache and capital leakage for most organizations, in the private as well as the public sector.
Even if national regulation can be tricky, the ever-changing international landscape requires highly specific expertise and is a continuous cause for concern in cross-border trade.
Despite harmonization efforts, driven as an example by the European Union, there are vast differences in national and even local regulations. Keeping track of, and managing, VAT can in other words be overwhelming and extremely costly.
5. Wanted: quantified insights
When teams are swamped with work – a continuous stream of invoices, disputes, and deviances – there isn't much room for analysis.
By turning your focus on analytics and KPIs rather than manual handling, you transform your accounts payable team from being a cost to becoming a profit center.
Metrics and KPIs based on line-item spend, cash flow, and cost centers provide insights for control and capabilities to develop your organization.