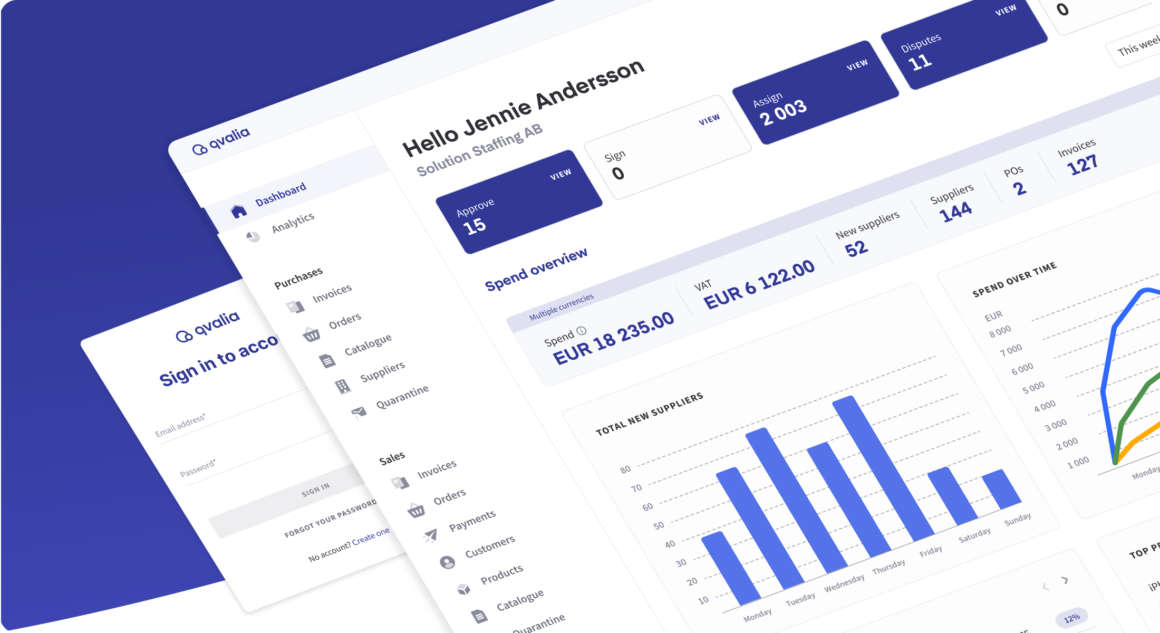 Our latest release adds several powerful KPIs and features for improved Analytics. Navigation and account management has been enhanced — from menu design to managing multiple company accounts. Learn about these updates and more.
The latest improvements to the platform have focused on enhancing the user interface and bringing additional ready-made tools to analyze sales and purchases in Analytics — from top classes to line item-level products and services.
The navigation has been updated with a streamlined new top bar, adjustments to the sidebar, and improved responsiveness. Switching between different company accounts is quicker and easier for users managing multiple organizations. Registering additional companies to your account is more intuitive and available in the existing sign-up view. The sign-in, registration, and password recovery processes have been completely redesigned. The update is available for all users.

Analytics is improved with several new tools, performance indicators, and filtering functions. New KPIs include; number of invoice lines, average invoice amount, minimum invoice amount, maximum invoice amount, and a new invoice type filter. Available is also a new classification data table. Sorting is now enabled for all table columns. Styling and usability improvements include highlighted negative totals in tables. Analytics is available for all users of the Insights plan.

Help section articles are now readily available from inside the platform for all users to enable quicker support.

E-order management is enhanced with support for reviewing attachments in sales and purchase orders. E-orders are available to Premium plan users.

Quarantine, the integrated tool for deviation management, is now fully included in the notification email. Review your settings to ensure you are notified of status updates and summaries. Notification emails are available for all users, and Quarantine is a Premium plan feature.
The release is in production from March 8.