The punchout process makes it easy and efficient for B2B customers to purchase products online. Basically, it's the next step in the development of B2B e-commerce.
In the business network Peppol, punchout is a dynamic shopping cart, e-catalog, and process that enables B2B sellers to provide online catalogs to ensure updated product information and pricing and facilitate the checkout using the buyer's order management system (OMS). When buyers can look browse through personalized and customized product catalogs, it saves time and ensures data quality and efficiency throughout the procurement process.
The on-demand flexibility of the punchout process gives your B2B customers an enhanced procurement experience by offering ease of use, convenience, and personalization. These factors improve efficiencies, customer retention, and loyalty to your brand.
The punchout process in Peppol
The Peppol BIS (Business Interoperability Specifications) punchout process works like this: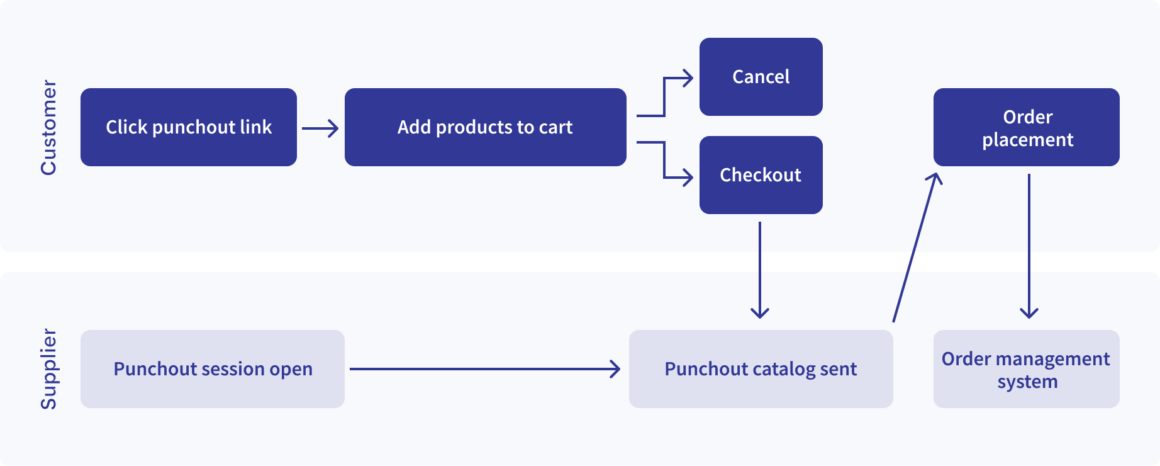 A step-by-step breakdown of the punchout process
The punchout process has different methods, but the basic procedure starts with a customer clicking on a punchout link. This link is available on the supplier's website, on an e-commerce platform, intranet, or sent via email.
The link creates a punchout session that pulls in all relevant catalog information. It can be information according to the current price list for a specific customer, campaign, or general price list. The pricing may be specific for a particular session.
The customer then adds requested products or services from the catalog to a shopping cart. The user experience can be identical to common e-commerce sites.
The customer proceeds to checkout, choosing whether they want to cancel the purchase or continue with placing the order — just like on any e-commerce solution.
After completing the checkout, the composed punchout catalog automatically goes back to the supplier. This catalog follows the format for e-catalogs in Peppol but contains only the goods in the shopping cart, including information about availability, delivery times, and other details.
This information then goes to the customer's system, for example, a purchasing or order placement system. Finally, the customer's system converts the punchout catalog into an order which goes back to the supplier, who processes it in their order management system — it's really that simple!
Improve your customer's ordering experience with Peppol
Gain an edge by providing a quick, reliable punchout integration for your e-commerce business. Peppol offers robust features and benefits.
Easy integration
Fast, effective product search
Real-time price and product information updates
Customization for your buyer's needs
Learn how Qvalia can streamline your transition to punchout catalogs with Peppol.